who has a new favorite picture every time we take pictures? This is my "current" favorite picture. Ian discovered a beautiful park that neither one of us had been to before. Sunday, before church, we went on an impromptu family photo shoot. It was so blazing hot even at 10:30am so we didn't stay too long, but got some very fun pictures. I will post more later, but I absolutely love this one. He is so pleased with himself when he stands so I wanted to get one of him in the grass. Ian held the camera down low (not looking through the finder) so that's why it's cut off. It was an instant artsy unknown crop of the picture and I really like the look of it. We have such a blast taking pictures. I think the best part about it is to see Ian push the button and run (without trying to sweat) to get in the picture before it takes. He really needs to invest in a remote control…if only to lessen the "glisten" on his face!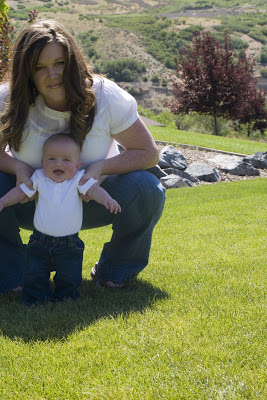 Saturday night I had a mini crop night with my two best friends. After we ate some dinner and sat down to start our creativity, Rachel hands both Jenn and I a kid's small board book and says she got them for her brother and sister-in-law who are having a baby. Both of us were kind of like…okay…that's weird to bring, but when we opened each of our books there was a note inside that said,"Aunty Amy, I'm on the way! See you in 8 months! Love, Baby R" She's having a baby!!! They have been trying since the beginning of the year to get pregnant. I am super excited for her and Greg. Their baby is going to be gorgeous. It was so cool to finally be on the other side and giving advice and tips rather than getting them. I loved (most) of the advice that I got and was so grateful for all the wonderful info that I collected so don't get me wrong. But now I was a certified mom that actually had a labor story to share and unsolicited advice to give!!! It was great! She's so excited, but nervous about the unknown. That seems like just yesterday that I felt the same way.
Let the countdown begin to our trip to Texas! We leave on Friday and come back next Saturday. It's Ian's family reunion with his parents, brothers, sisters and their families. This will be the first time back since we moved almost 3 years ago. Everyone has planned some fun activities so we should a fabulous time. We are also looking forward to visiting with the Meyers, Meyers and Gilchrist's. No, not a law firm, but our good friends from Burleson. We are going back to our old church so that should be fun…interesting, but fun! And to top it all off, Ian and I plan on indulging ourselves on chicken fajitas at Pappasito's! SIMPLY THE BEST IN THE WORLD! Of course we are taking pictures so I should have plenty to blog about when we get back. I am going to try to fit in one more entry before we go, but just in case I keep my slacker attitude…don't forget about me.
Liam found time between naps today to update his blog today!