Ian is such a supporter of me and my addictive habit of scrapbooking. Since I haven't created anything lately (other than the fun 5 layouts that I created for "that" magazine that I just got a big fat check from yesterday!) he made me sit down and create something. That was a few days ago and here's the layout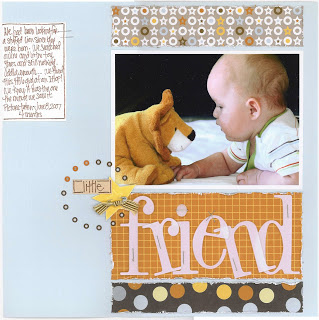 That inspired me to create another layout with my absolute favorite newborn pictures that Ian took of us when he was just 3 weeks old. His little wrinkly forehead cracks me up.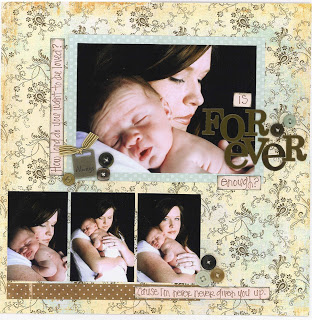 Ian played me this Dixie Chicks song and I fell in love with it because it's how I feel about Liam. I love how songs can have such a connection and bring emotion into your life. Not that I need more emotions…at least I am not crying every other day…baby blues I guess. I think I am going to focus more on what I love most…being creative. Besides being with and loving my two handsome men! Plus scrapbooking is the best diet. When I am in that creative zone, I don't even think about eating for hours! So, thanks Ian for helping my creative side come through.