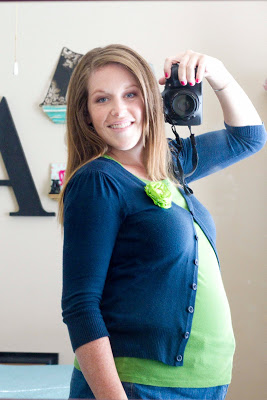 Whenever I get on Skype with my mom, she asks to see "the belly". I have not taken a monthly picture like I did with Liam this time around, but I did manage to snap this picture off a few weeks ago. We were headed to a surprise birthday party for a great friend so I was actually ready for the day.
I have been busy (nesting) trying to get ready for baby #2. I have gone through all of Liam's baby clothes, washing and sorting them by size. I must have gotten rid of more than I thought that I did because I am coming up short on a lot. That's okay…some SHOPPING to do!
We got rid of the dresser that was in Liam's room before we moved. The drawers kept breaking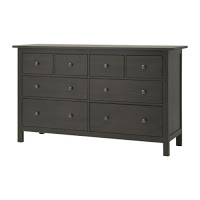 (it couldn't be due to the fact that Liam would stand in them) and it was clunky and heavy. We recently got this dresser
for our bedroom and loved it so much that we want to get this taller version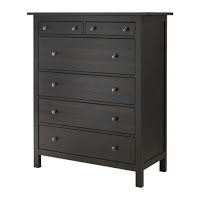 for the boys room. WOW! I just typed boys room! That is crazy to think that, I, Amy Williams, will have multiple boys. Who would have ever thought? I don't think that I am the girliest girl on the planet, but when Liam came around, I had no clue what to do with him. Now I enjoy playing swords, jumping on the bed and absolutely am addicted to playing legos. Boys are fun!
Okay…enough on that tangent…so, I was still in need of a changing table for the little one because that dresser we got rid of was also the perfect size for a changing table for Liam. Since Ikea is cheap and easy, we went with this little number.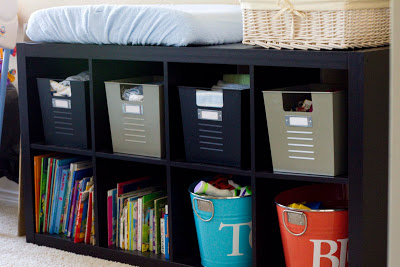 I got the square, black and gray tins at Target recently and they house all of the baby essentials just perfectly (still need to be labeled). Once we get the dresser then those tins can easily house toys and toys and toys. They have wire versions of them that I want to get to replace the basket on top for diapers, wipes and cream. The aqua and orange tubs we got at Walmart ($3 score) when Liam was just a baby and slapped some vinyl titles on them.
And, I can't have all this baby talk going on and not mention that our wonderful friends had their baby a week ago. Their baby is the cutest, tiniest thing!!! She had her baby shower a few weeks ago (they are a very loved couple because a million people came). I whipped up my favorite baby gift to give her. It's a small "tag" blanket/square that you can attach toys to so they don't get away from baby. I made this one a little bigger than usual, but I loved it. I received one from our fabulous friends, the Meyers, when Liam was born and it was his favorite thing to play with sans toys attatched.