bIrThDaY
I forgot to post about what I did for my birthday…nothing. Well, that's not totally true. We didn't get to go to fabulous fajitas place that we had planned on. One because we too dang tired and two I was in such worker bee mode just trying to get our place put somewhat together, again. Hence, reason one! The night before we were still staying at my SIL's so she asked if she could do a birthday dinner for me. Who can refuse? She and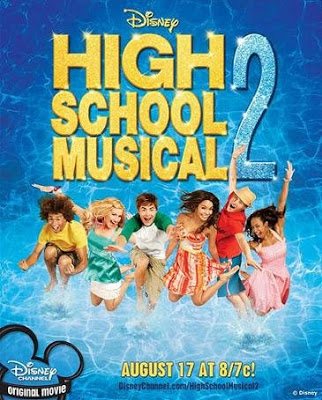 Ian made Bertolli's frozen meals. None of us had them before and they were so delicious. We tried three different varieties, Chicken Parmigiana and Penne, Grilled Chicken Alfredo, and Shrimp, Asparagus and Penne. Inexpensive and takes less than 10 minutes to cook. I think the best part of the dinner was the atmosphere, though. Sydney and Amory picked up some decorations at the store that they knew that I would love the theme. HSM2! Or for all you non-fans…High School Musical 2. Red and Gold streamers with a movie poster and even a singing birthday card. So fun! We topped it all off with yummy chocolate, chocolate, chocolate cake (which I finished my piece for breakfast my birthday morning.)
On my birthday, my mom and dad called first thing in the morning to wish me a happy birthday. I got some great gifts from them before I left. A special surprise came in the afternoon when my aunt Sara called to inform me that she was having pizza delivered to our home for lunch. She knew that we just moved back in (again) and know it's never any fun to have to try to make something in all that moving mess! Thanks again, Sara! Some friends and cousins called to wish me a happy birthday as well. I love them! I got to spend the evening with Ian and Liam so it was wonderful. We are going to try to go to out this weekend to celebrate. Now that we are pretty much settled, I think I can enjoy it a bit more.
BoO bOo'S
NOW…on to a not so very fun subject. Ear infections. The night before last Liam was (literally) up all night crying and fussing. He had a fever, but nothing too scary. He was just not himself. The next day, I found a doctor and took him in. Both ears have an infection. Ian picked up the prescription on his way home from work. When he got home it was a little ticked. He said that it wasn't covered under our insurance so we had to spend $50 instead of the regular $10. It wasn't making any sense so he started looking at the papers attatched. They totally had Liam's name wrong so the insurance wouldn't accept it. After a bunch of phone calls Ian made, the pharmacy saw their mistake and refunded us the full amount and gave us a free prescription. While he went back to the store, I gave Liam his dosage. Within 20 minutes he had welt-ish hives on both of his legs. I got a little panicked, but knew it had it to be an allergic reaction. I called Ian to make sure he was on his way and had him call Ben to see if he could come over to give our little guy a blessing. After the blessing we rubbed on some Cortaide and called the night nurse at the dr. office to see what we needed to do. We gave him some Benadryl as well. He was much better after all three. The more panicked that Ian and I got, the more mellow and happy Liam got. He is such a good little man! He is so much better today and we got an alternative medicine for him. Let's hope he gets much better soon.
BlOg
I still have a little tweaking to do on my blog, but now I feel that it's a bit more me. I want it to be simple, but stinking cute…almost there to what I want. I feel like I need to put a construction sign giving notice. Ian was completely a huge help and so patient when helping me make my banner!!!
*Sorry for no pictures. I promise (Susan) that I will actually take some this week and post them. I have been a big slacker!