My mother-in-law has been making gingerbread houses forever! So last Thursday we went over to make ours for the holiday season. Liam was a whiz with the piping bag! And he as excellent candy placement skills! Okay, okay…he was asleep through the whole thing, but this really is a blast to do with your kids. Maybe next year we can get him involved. He has already climbed up the table and eaten practically all the candy off the back. But I guess that's party what it's for, right? Ian's family has a tradition to smash it on New Year's Eve and eat a piece for good luck.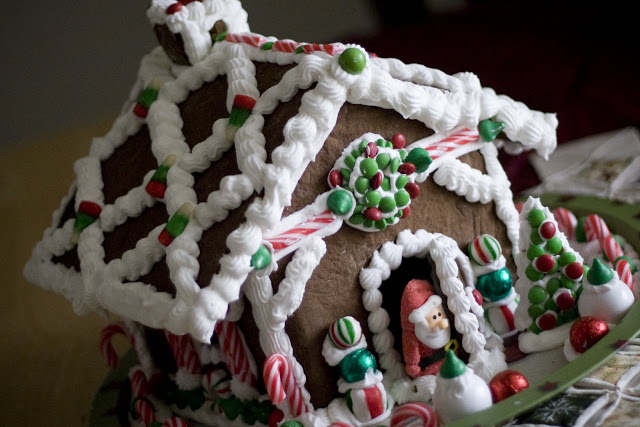 Liam also discovered that there is candy in our advent calendar we made last year. Unfortunately I lost the bracets you are supposed to put on the back of the canvas so I can't hang it up. It's just propped up where he can reach it. Lucky he only (almost demolished) touched it once. Now he just points to it and says, "please!"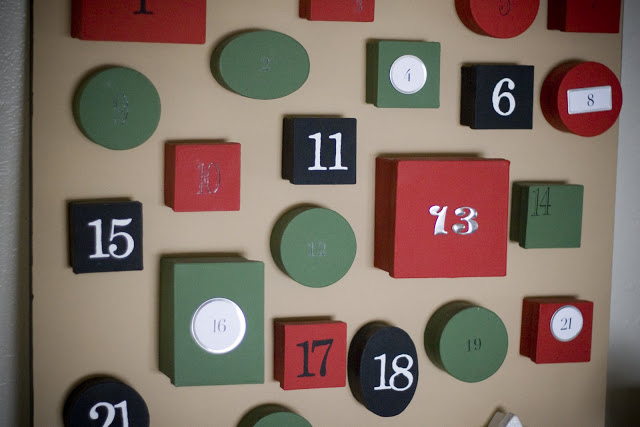 Friday, Ian took me out on a date. Well, it was actually a date to celebrate Ian's birthday a little early. Amory was nice enough to offer to watch Liam all night so we took her up on it. Ian had mentioned that he wanted to see a movie. I wasn't going to even mention Twilight and just be good with whatever he picked. Poor guy! I have Twilighted him TO DEATH. He has been a fairly good trooper about my obsession. I thought for sure he would want to see Bond again (he saw it with his brothers and dad over Thanksgiving weekend). He called me from work and said that he was coming home early so we could drop Liam off and be on time to catch a matinee…OF TWILIGHT! He had heard (a slight mention from me) that his brother, two of his guy friends and guy cousin had seen it with their wives. He didn't want to be a heel and be the only one who 1.Wasnt' man enough to take his wife to see it and 2.Not be man enough to see it himself. *Thanks for the unknowing peer pressure, guys! Ian actually liked it. He said he would see it again! I am sure if you were to ask him about it, he would mock it and tease you, but he liked it. And the third time for me was wonderful. Now, I am down to only not liking one thing about it. The score. It just doesn't fit for me. I like the soundtrack, just not all the other music. I just read that they will be getting a new director for New Moon so that makes me happy.
After the movie we went to Saltgrass for delicious steak…not too appropriate to do after a "vegitarian" movie! We both had a great time! We forget how much we don't hold hands in public anymore now that we have Liam. It's getting a little better now that he wants to walk everywhere himself. But when he was little I felt like a pack mule….bringing everything possible he would need.
I am getting more and more excited for Christmas to come. We have some fun plans the next couple of weeks. We took our Christmas card pictures on Saturday so I am picking them up today. Hopefully I can get them all out by tomorrow. I didn't make very many so I think that it's doable!