I have really been struggling with what to feed Liam lately. He has become a picky eater and it's driving me crazy. I am just hoping it's a phase, but I am sure it's a curse from my mother because I was a very picky eater growing up. A while back when I was putting all my recipes together I found this recipe and decided to give it a try. I think I got it out of a Martha Stewart Kids magazine. They are pretty low on sugar and have carrots in them so let's hope they are somewhat healthy! I wouldn't say that Liam loves them, but he does eat them without a fuss. I doubled the recipe and just froze them. I also made them in mini muffin tins, but you could use a regular pan. So if you have picky toddler, too…try these!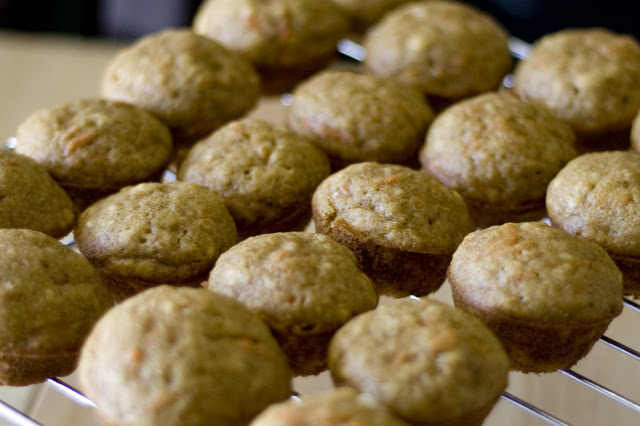 Carrot Muffins
3/4 cup flour
2 medium carrots
1/4 cup unsweetened applesauce
zest and juice of one lemon
1/2 cup sugar
1/2 tsp baking powder
1/2 tsp baking soda
1/4 tsp salt
1 tsp cinnamon
1/4 cup plus 2 TBSP vegetable oil
2 large eggs, lightly beaten
Heat oven to 350. Spray muffin tins. Peel carrots and grate on the large hole of the grater. Transfer to a boil and add applesauce, lemon juice and zest. In a medium bowl sift together dry ingredients. Add oil and eggs, stir until smooth. Stir in carrot mixture and combine. Spoon batter in to pans. Bake about 20 minutes. Let cool completely.
***I didn't have any lemons and it tasted just fine without them. And since I used a mini muffin tin, I only baked them for about 8-10 minutes.
If any of you have any tips or recipes that your kids like, please share them… I am desperate!