A few months back I had been on an organizing kick and cleaned out some of our closets. I spent a few hours cleaning out (reminiscing) some of our picture boxes. I came across this photo and knew I wanted to blog about it! So here we are months later and I have finally gotten around to it. It's actually perfect timing because this picture was taken about 16-17 year ago this month! (WOW! I am getting old!)
This Christmas gift definitely makes the top 5 of the best gifts I have gotten over the years. If you don't know me, let me just tell you that I am completely star struck. Always have been and always will be. It's just something that clicks in me whenever I see a celebrity. This particular year, my grandma arranged for me, my cousin Ciera, my cousin Angie and their cousin Rachel to meet some of the Osmond clan. The Osmond Boys, Second Generation were a boy band derived from Alan Osmond kids. Same melodic sounds from heaven with a new generation cuteness!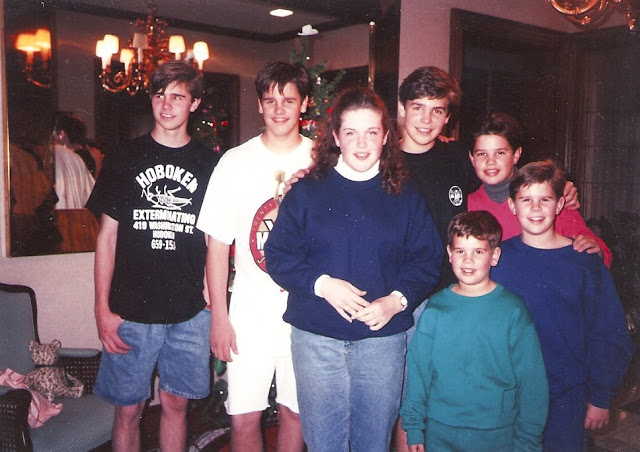 My grandma had connections because she was the Osmond's personal travel agent back in the day. It was some random cold day in December that we drove to their home in Orem, Utah. I was completely nervous to meet them, but was completely confident in my white turtle neck/ blue sweatshirt ensemble and poodle-ish hair. GAG!!! All I remember was walking in shaking all of their hands and sitting in their living room with a gorgeous piano. In the short time we were there, my grandma and Allen mostly carried the whole converstion because us girls were too twitterpated to say anything. We took some pictures and got hugs good-bye (which I had taken as a marriage proposal from the three oldest!) They politely invited us to go skiing sometime (which I took as what we would do on our honeymoon) and walked us out to the car. They waved to us the entire time it took us to drive down their street which I remember happening in slow motion! Once we rounded the corner and they were no longer in eye site…the scream insued! I listened to the one CD I had at the time of theirs over and over again.
It was just a few minutes of my life, but the impression I recieved from those celebrity boys was of greatness. I felt special for those few moments and it was wonderful!