Today it was my turn to teach our little preschool class in our home. I was nervous and didn't think I had enough activities to do, but of course I ran out of time and I think the kids had a great time. I decided to teach colors and had a blast with it. Forever ago I saw on this site that you can color your own macaroni to make fun jewelry. So I made some "beads" for the kids and loved seeing their creations. They were so easy and fun to make that I wanted to share with you!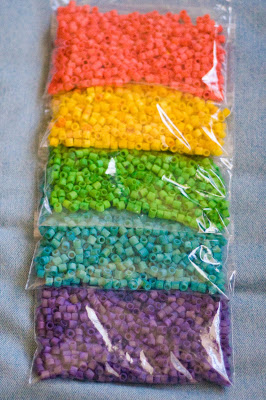 Colored Pasta Beads
Pin It
1 cup pasta per color (I used Ditalini)
2 TBSP rubbing alcohol
2-3 drops food coloring (I used Wilton coloring gels)
Place rubbing alcohol and coloring in a ziploc sandwich bag. Mix together. Add in pasta and shake to coat well. Repeat with each color. Drain off excess liquid. Place on a foil lined cookie sheet and allow to dry for one hour (I let mine dry overnight).
Liam gave me the necklace that he created…my very first mom's macaroni necklace! I am keeping this one for sure and wearing it to the movies this afternoon. I mean…you have to dress up to see the Princess and the Frog, right?