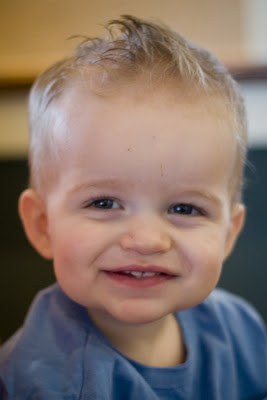 Liam, that is! We have been practicing with him for weeks now and he just did not want to do it on his own. He would always have the death grip on my hand and not want to let go. After the one time I blogged about, he caught on to what we were trying to make him do and was not having it. The day before yesterday Ian made a comment that made me want to stick my tongue out at him (okay, I did) but was so profound that I had to give it a try reguardless. He said, "Ya know, momma birds just push their baby birds out of the nest to get them to fly on their own."
How do they do it? I didn't think I could make Liam do anything he didn't want to do, but I realized if it makes him a better person, I was the one you needed to suck it up! All afternoon yesterday I just kept being persistent and making him walk to me. I would run backwards in front of him and in my silly high pitched mom voice cheer him on to walk. He thought it was a fun game and for the first time took multiple steps multiple times. We went over to Ben and Amory's house again (that darn Wii!) and on his own, Liam was just walking like crazy. It's so cute to see his arms up at his sides trying to get his wobbly legs to find some balance. He must have worn himself out because he is still asleep and he usually wakes up 2 hours ago in the morning. I will always remember his happy smile when he knew what he was doing felt right. I always want him to know that doing the right thing will always bring him happiness!
**This picture was the very first picture that Liam actually smiled when Ian said, "Smile" behind the camera. So adorable!