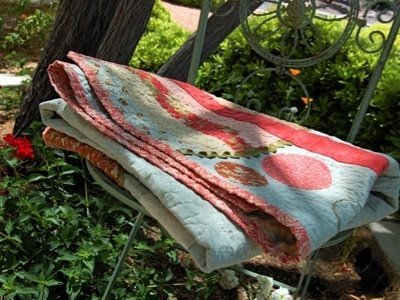 Enter to win this most adorable quilt!!!
I wish this were my fantastic giveaway. I found this on Susan's blog and I am so entering! She has stinkin' cute quilts and I love her material choices. If you enter, please link to my blog as well because then I get an extra entry…and so on and so on.
I got into quilting when I saw my friend Lacey's quilt she made for her daughter. I knew that I had to make Stella a quilt. (For those of you who are just tuning into my blog…we were told we were having a girl and Liam popped out!) I found this on my blog of that very first quilt and look forward to using it someday! So I got some extra practice again making Liam's quilt**which I just realized that I don't think I ever posted a picture of that.** Anyways, for Christmas my mom gave me money to go and buy some material at American Quilters to make my very own quilt. Because of the way our year has been going so far, I haven't had time to make it. But here is what I bought.

Last night I had an epiphany, if you will, on my lack of creativity lately. I have none. I have no desire to do anything along the artsy fartsy line. And when I have tried in the past, I feel like I have failed miserabley. I was whining to Ian last night that I felt this way and all of the sudden the thought came to me. God gave me this wonderful talent and I have been abusing it by not using it on a regular basis. Ian asked me what I was going to do about it and I replied,"Start fresh." I have been feeling left behind in the whole scrapbooking department and feel so overwhelmed (can you ever just feel whelmed? sorry. movie quote…who can guess it? Rachel???) I am going to just jump right in and do. Who's with me?