I found some time tonight to finally go through pictures taken over the last couple of days and so here goes the photo overload!
We are having a wonderful time with Ian's sister and her family being here. It's always nice to have family around.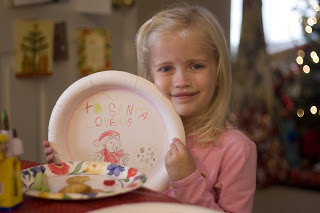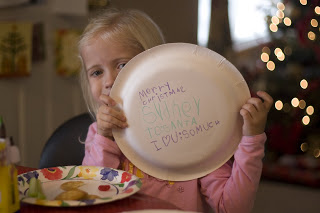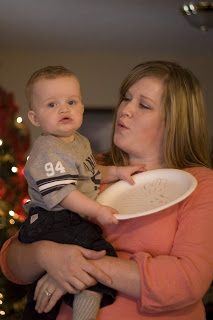 Christmas Eve day everyone had last minute errands to run so I stayed home with the kids. We don't have an official Santa cookie plate (yet) so I had Sydney decorate a classy paper one. She loved it regar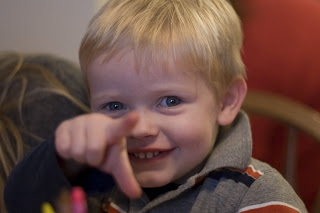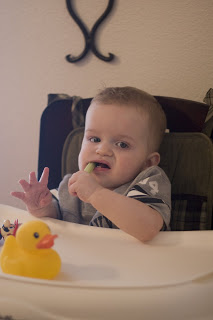 dless of the expense! Liam even decorated his own plate as well!
Since we were having a Christmas feast that night I just prepared a veggie tray and made my MIL's delicious cheese ball and crackers. Liam totally loves to snack on celery so we let him have at it! I helped Amory wrap some of her gifts that she brought…I love to wrap, but we were in a crunch so not too much time was spent on making everything look super special! Mrs. Claus made it to our house to deliver our pajamas…good thing Sydney prayed for her safety at lunch prayer!
Finally we got the kids to bed and we all went to work, wrapping more gifts and stuffing stockings.
Surprisingly enough, we all didn't wake up until 8:45. Liam was our wake up call so I was sure he was going to be up at 6:00 like every other day. It was nice to sleep in a bit. We all had so much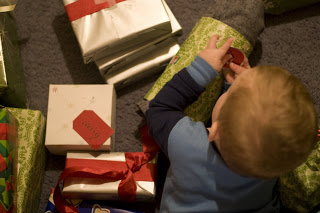 fun watching each other open gifts. Liam had all of the bows and ribbons off or untied on my gifts before we even started unwrapping anything. We did a siblings exchange on Ian's side (since I am an only child). We had Amory and Ben and got them a huge clock that I personalized with good ol' rubons! Ian's little brother had us and his was my favorite gift of all. He, himself picked out a Willow Tree figurine…of a couple with a baby. TEARS!!!! Not the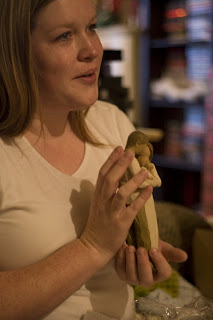 most flattering picture, but I will always remember that moment! Lia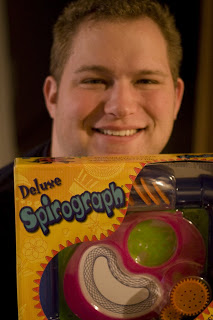 m "picked out" his daddy's gift which he totally enjoyed!
Stay tuned for part two of the morning…I am being kicked off the computer!