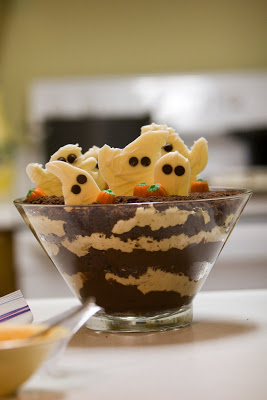 I made this yummy treat last night for a Halloween party we went to with friends. I wanted to do the typical graveyard on the top, but the store was out of Milano cookies and I didn't have any other cookie that would work for a tombstone. I did have some white chocolate so I (on the fly) made ghosts with chocolate chip eyes. It was fun!
Chocolate Trifle with Peanut Butter Mousse
1 chocolate cake mix (I used Devil's food)
*Make cake according to directions and let cool completely.
1 large box chocolate pudding
1 can evaporated milk
1/2 cup milk
*Mix all ingredients together and let chill for 2 hours
1 cup peanut butter
1/2 cup honey
3/4 cup very hot water
2 cups heavy whipping cream
1/4 cup sugar
*Whip together heavy whipping cream and sugar until light and fluffy. In another bowl, mix together peanut butter, honey and hot water until combined. Gently combine the cream with the pb mixture to make mousse. It will be a little lumpy.
*Crumble a 1/3 of the cake into a trifle bowl or clear glass bowl. Scoop 1/2 of the pudding over the cake. Scoop 1/2 of the pb mousse over the pudding mixture and spread around. Repeat layers again. Top the trifle with finely crumble cake (to make the "dirt". Chill for at leat 1/2 hour before serving. Or can be made earlier in the day. Then top with whatever Halloween decorations. This would also be just fine as a non-Halloween dessert.!!!
*I kind of made this recipe up out of other recipes that I have.