WOW!!! I am super excited about this and want to thank all of you who posted a guess. Almost all of you got it right. Thanks for playing!
Well, I will have to throw a I *HEART*…
Paula Deen (I wish I was her neighbor!)
Books
Book Clubs (actually never been a part of one, until now!)
NY (would love to go someday)
Recipes (I love to collect them)
Oprah
Chocolate
Trivia (Only if it's about entertainment trivia)
Fashion
Service
Baking (I baked some cookies just last night)
Photography (that I do love very much)
Scrapbooking (um, yeah!)
Honking My Horn (only at people that pull out in front of me)
Lucy
American Style
Cheesecake (especially frozen)
Random Scrapbooking Blogs
Movies (lovey dovey ones are my fav)
Music (go iTunes)
Listening to Records
Reading Romantic Novels (just recently)
Grey's Anatomy (never have seen an episode)
Lost
Mr. Darcy (everyone needs their own personal Darcy)
Huckabee (no comment)
Obama (no comment)
Checkers
Americal Idol (Go David A. and Brooke)
Wedding Showers
Jane Austen (always)
Conan O'Brien (I am not up that late)
Rock of Love (he totally should have stayed with Jes)
Bachelor (hello hottie!)
Survivor (haven't ever seen that either)
Yahtzee
FOOD (who doesn't?)
Cheesecake Factory (you know how I feel about that!)
…sometime next week. In between packing, cleaning and moving, I am sure I will have plenty of time!
Those were all great guesses, but the actual phrase on the front of the card is
I *HEART* EDWARD CULLEN
and the them is a Twilight Book Party!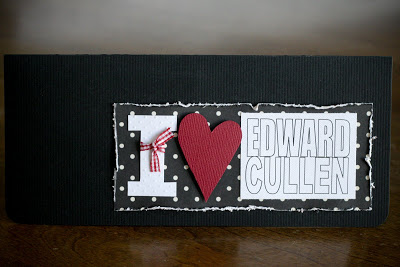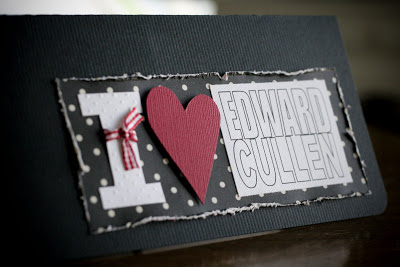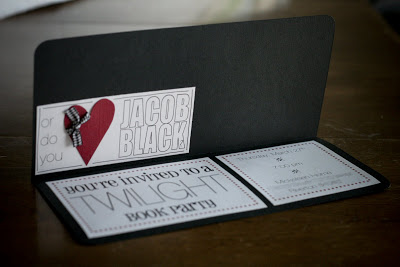 Now I haven't ever been to a party that is based upon a book, but I hear that we are going to play some fun games and (of course) have fabulous fondue!
Soooooooooooooo, after putting your names (of those who guessed right) in a bowl and letting Liam (who is only 1 and ate the paper as well) pick the name…and the winner is…Brooke_hc! Congrats! Email me (at amygirly@gmail.com) with your address and I will ship off your little prize.
*And for those of you who still have no clue what I am talking about…march yourselves off to the bookstore (or to Costco because they are cheaper) and buy Twilight, New Moon and Eclipse! Well worth the purchase. I have just re-read them all twice (partly because I am a nerd, partly because I can't sleep when Ian is away, and partly because they are that good!)
Thank you all again for posting a comment and feel free to post anytime…*hint, hint*!