Surprisingly enough, we hardly took any Easter pictures this year. Liam did, however, enjoyed all FOUR egg hunts he was lucky enough to participate in!
The first was the local city hunt that we went to last year. They had it all marked off by age of your child and really try to stress that no parents are allowed within the roped off area. Well, everyone abides…for about 5.3 seconds! We were fine with letting Liam go on his own, until all the parents started to run in and we lost sight of Liam for 1.4 seconds. I bolted off and found him two feet away collecting all the goodies he could find. He was so sweet and I had a great mom moment. Whenever he would see a kid go for a candy and another kid would get it, he would pick up a candy from the ground and go put it in that kid's basket. "Here you go!" he would say with a huge smile on his face. Needless to say, he got a handful of candy while a million other kids had a basket full. I love that kid!!!
He also had a preschool Easter party later that week which was so fun! He was not into the egg on the spoon game, though! It was redeemed by making super cute foam baskets that he creatively wore as a hat…surprise, surprise! In minutes every single boy was a basket wearing preschooler, running around in circles with Liam as the ring leader.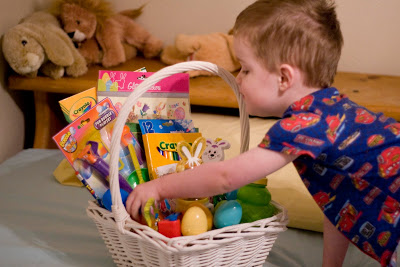 We do Easter baskets Saturday morning so when Liam woke up and went potty, the Easter Bunny was super quick and surprised him with his basket on his bed. Liam oohed, and aahed over everything. He especially loved the Mickey Mouse camera he got and took pictures of all the other items in his basket. Later that afternoon we had a hunt with his cousins and found a plethora of candy in each egg.
Both Saturday and Sunday we were excited to listen to General Conference with Ian's side of the family. We also enjoyed a fabulous Easter dinner at Ian's parents house with a ton of delicious food. I love Easter weekend!