Sorry, but here is another non-healthy recipe I made. Trust me…after eating this you will be craving veggies it's so sweetly good! (Try to see the pan as half full rather than half empty!)
I got the recipe a while ago. It was featured on my favorite local morning show, Good Things Utah. The majority of the recipes on there are pretty good…especially the Fried Pickles!!!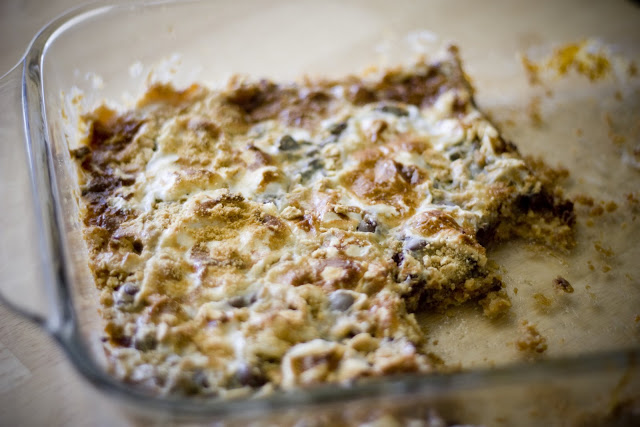 Ooey-Gooey S'more Bars
1/2 cup butter, melted
2 cups (about 2 sleeves) graham crackers, crushed
1 1/2 cups chocolate chips
1 1/2 cups mini marshmallows
1 can sweetened condensed milk
Preheat oven to 350. Mix together butter and 1 1/2 cups crumbs. Press into bottom of 9×13 pan. Sprinkle chocolate chips, marshmallows, and remaining crumbs over top. Evenly pour milk on top. Bake 15-20 minutes until medium golden brown. Cut away from pan while still hot. COOL COMPLETELY (about 1/2 hour) before serving…or chance burning your tongue off for a lick of goodness!