There is a little show featured in Utah called Good Things Utah. It was one of my favs to watch and was sad that I had nothing as fun to fill the hour between 10 and 11 when we moved to Texas. However, I discovered soon after we came here that they have most of the show featured on their website. That is where I found this recipe. They were featuring Food Blogs in Utah…how fun is that…this one in particular. Ian says this recipe is for sure a keeper! I altered her recipe to more of my liking.
Honey Lime Chicken Enchiladas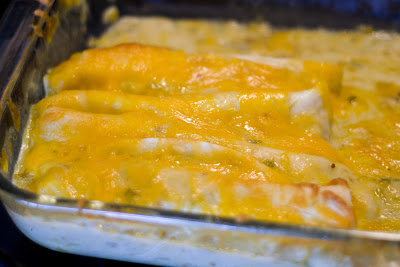 1/4 cup honey
1/4 cup lime juice
2 tsp to 1 TBSP chili powder
2 large garlic cloves, finely minced
2 large chicken breasts, cooked and shredded
12 corn or flour tortillas
3 cups Mexican cheese blend, shredded
2 10 oz green enchilada sauce
1/2 cup heavy cream
1/4 cup milk
Preheat oven to 375. Place chicken in bowl. In a small bow whisk together honey, lime juice, chili powder and garlic. Pour over chicken and toss to combine. Marinate in fridge for 30 minutes up to one hour.
Slightly heat up tortillas (I used flour) in the microwave to make them more flexible. Spray 9×13 pan with pam. In a bowl combine enchilada sauce, cream and milk. Spread about 3/4 cup on bottom of pan to prevent the tortillas from sticking. Fill each tortilla with cheese and chicken then roll up and place in pan seam side down. Top with remaining sauce. Sprinkle with cheese (or in my cheese loving family) heap the cheese on top. Bake for 30-35 minutes or until bubbly and lightly golden brown.
**This would be a great recipe to use a rotisserie chicken with. I had some frozen chicken that I needed to use up so I cooked that. Since I had limes on hand I also served this with Lime Cilantro Rice and salad.
I first saw these little bunnies on Jen's blog where she used them on pumpkin bars. So when I happened upon a box of them at Target (Completely organic and not any more expensive than Teddy Grahams) I knew exactly what I wanted to use them for. Hellooooo…carrot cake!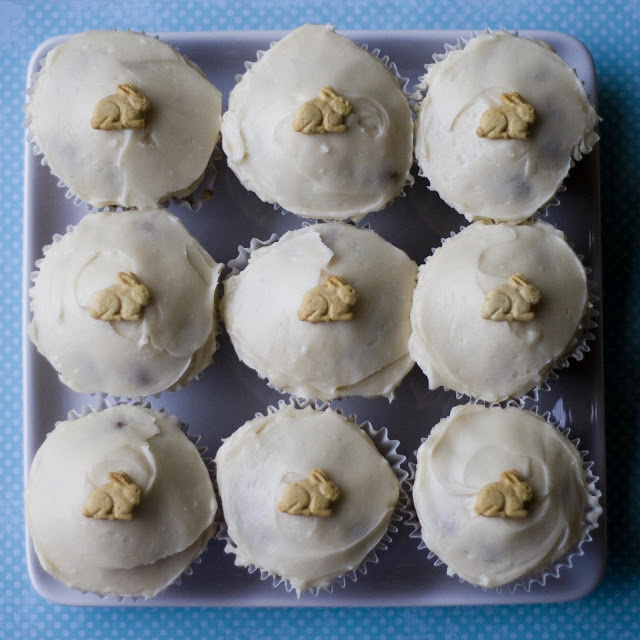 I didn't like carrot cake growing up. And I would cringe at the nasty site of cream cheese…don't get me started on how I felt about the smell of it!
Being married has opened my eyes on a lot of things. How boys think. Why taking apart anything is so cool. It's possible to love someone no matter what. Giving is so much better than recieving (most of the time!) and a true appreciate for carrot cake. This is one of Ian's favorite desserts. He claims it's so healthy that you can eat if for breakfast. Once I found this recipe a few years back, I was hooked. I don't even know why I was crazy and didn't like it before.
Carrot Cake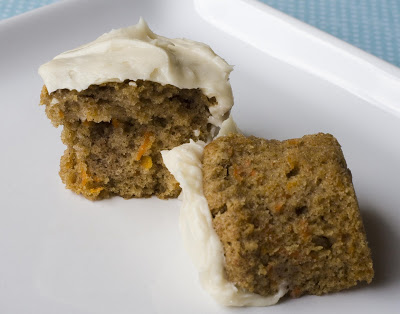 1 1/2 cups sugar
1 cup vegetable oil
3 large eggs
1 tsp vanilla
2 cups flour
1 1/2 tsp cinnamon
1 tsp baking soda
3/4 tsp salt
1/2 tsp nutmeg
3 cups shredded carrots
Preheat oven to 350º. Cream together sugar, oil, eggs and vanilla. Add in remaining ingredients and blend until smooth. Bake in a 9×13 pan, muffin tin, or two 8 inch pans for 30-45 minutes. Or until center comes out clean when a knife is inserted. Cool completely before frosting.
Cream Cheese Frosting
1 pkg cream cheese, softened
1/3 cup butter, softened
1 tsp vanilla
4 cups powdered sugar
Beat cream cheese and butter until smooth. Add in vanilla and mix. Stir in powdered sugar until desired constistancy is reached. If it ends up being too thick, add a little milk to thin it out.