First, let me say that we had a fabulous time with my mom here! Both Liam and I cried when we dropped her off at the airport…(I still haven't changed much). When I was younger I used to cry whenever I had leave family members that we were visiting. I was feeling under the weather (NOT with swine flu) this week so that is the reason for the lack of posts and pictures of her visit. Look forward to that this weekend!
When we first lived in Texas and I was a working gal I used to go out to eat for lunch. Such a concept now that I am a stay at home mom/wife/gal. There was a Mexican restaurant that my co-worker/friend, Stacy introduced me to and now I cannot remember the name of it for the life of me. All I remember is that it was gooooo-oooodd! The first time we went she suggested that I get the Baja Chicken (at least that is what I remember it being called…(I am getting old and a bad memory to go along with it!) Oh, I craved that chicken. I mentally and "taste"fully picked it apart and decided that I could make it at home….and I did. To this day, it's one of Ian's top 3 dishes that I make.
Baja Chicken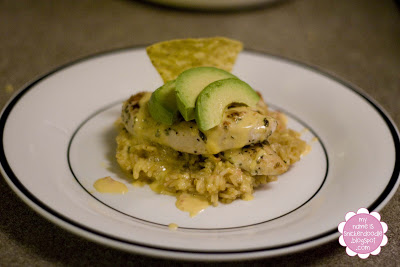 4 boneless, skinless chicken breasts (or however many you need to feed your family)
pepper
garlic powder
parsley flakes
1 TBSP canola oil
1 box Rice-a-roni Spanish or Mexican rice (with ingredients to follow directions on the box)
1/2 can Ro-tel (we use mild even though Ian would love spicy)
1/2 large brick of velveta
1-2 avocados, sliced
Tortilla chips
Make rice according to directions on the box. While that is cooking start on the chicken. Sprinkle both sides of the chicken with pepper, garlic powder and parsley flakes to taste. On medium heat cook and brown chicken in oil until cooked through and no longer pink inside. About 12-15 minutes. Once rice and chicken are done turn off burners and leave in pans to keep warm while you make your queso. Mix together velveta and Ro-tel in a microwaveable bowl. Heat for a minute at a time until cheese is completely melted. Place a scoop of rice onto plate and then top with a chicken breast. Drizzle queso over the top. Garnish (this is the most important part) with your sliced avocado. Place chips around the plate. Enjoy
*You can most definitely use your favorite boxed rice brand (Hal) if you are not a fan of the San Fransisco Treat! You can also buy the smaller brick of velveta and use the whole thing…but then you are left with 1/2 a can of Ro-tel and nothing to melt it with! I think the avocado totally makes this dish…Ian and I usually try to bribe the other out of their slices!
I (surprisingly) haven't made a lot of sweets lately so I got this picture off of the Food Network site where I got the recipe from.
I discovered Paula Deen a few years ago and my life has not been the same since. I know a lot of people that cannot stand her, but she is someone who I would absolutely love to be my neighbor. I think most of you will like this recipe. And I think some of you will love this recipe if you like salty sweet things like me! SO EASY!!!
Pine Bark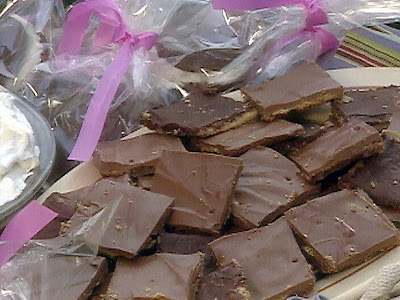 35 saltine crackers
1 cup butter
1 cup packed light brown sugar
1/2 tsp vanilla extract
1 3/4 cup chocolate chips (I use milk, but this would be fine with semi-sweet)
Preheat oven to 400º. Line a cookie sheet with tin foil. Lightly spray foil with cooking spray. Place saltine crackers, salty side down, in prepared pan. In a sauce pan, boil butter and sugar for 2-3 minutes, stirring constantly. Remove from heat and stir in vanilla extract. Pour mixture over crackers, evenly coating, and bake for 4-6 minutes. Remove from oven and immediately top with chocolate chips. Spread evenly as chocolate starts to melt. Cool about 6 minutes and break up into squares. Transfer to wax paper or cooling rack to cool completely.
*Paula's recipe originally called for almond extract, but I think it's better with vanilla. She also places her crackers salty side up, but I like to taste that salt on my tongue right before the sweet caramel and chocolate hit it!