Monday night we had some of Ian's family over for an impromptu dinner and I was excited to try something new out on them. Actually two new recipes, but I will only post one today. The one for today, I was inspired by this recipe. Both were a huge hit! Ian's family (who I would hope would agree with me) doesn't really express their enthusiasm in your typical manner. The way I knew they liked it is my father in law asked if I would give that recipe to his wife. There you have it. And this bread was completely gone by the time I had even taken my first bite.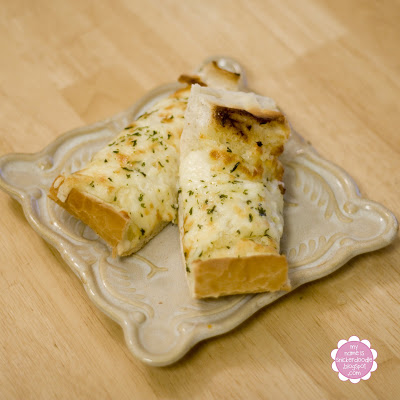 Cheesy Garlic Bread
1 1/2 sticks butter, softened
1/4 cup mayo
2-3 garlic cloves, minced
16 oz. freshly grated mozzarella cheese
1 tsp parsley flakes
1 loaf French bread
Preheat oven to 400º. Cut bread in half lengthwise. Place on cookie sheet. In a medium bowl, combine remaining ingredients. Spread half of cheese mixture on one slice of bread. Repeat with remaining ingredients. Bake for 7 minutes and then turn oven to broil. Broil for 1-2 minutes until cheese is lightly golden brown and bubbly.
*I PROMISE you that you will regret using pre-shredded cheese on this. Buying the block and grating it yourself will guarantee you a better bread. Promise.
I had to ask special permission to post this next recipe. It's one of two specialties this person makes so he holds it very close to his heart. Along with this fabulous version of a famous cookie, Ian also makes kick b u t t scrambled eggs! I never knew and egg could taste like that until he made them for me years ago. As for this cookie, I never knew an oatmeal cookie didn't need to be dry and crumbly. These are so incredibly moist and delicious!
Oatmeal Raisin Cookies
1/2 cup sugar
1/2 cup brown sugar
1/4 cup butter
1/2 cup shortening
1 egg
1 tsp vanilla
1/2 tsp baking soda
1/4 tsp baking powder
1/4 tsp salt
1/2 tsp cinnamon
1 cup flour
1 1/2 cup quick oats
1 cup raisins
Preheat oven to 375º. Cream together sugars, butter and shortening together. Add in vanilla and egg and mix. Stir in baking soda, baking powder, salt, cinnamon and flour. Mix in oatmeal and raisins. Spoon onto an ungreased cookie sheet. Bake for 10-12 minutes.
Thanks to everyone for such great feed back on FFF. I absolutely love to hear that you have tried out these recipes and have given me new ideas on old standbys. Wonderful, wonderful!