There is a restaurant in Utah that I didn't like for the longest time. It was because I was getting the wrong thing. What a concept that there are wrong things to order, but you know what I mean. If it's a specialty restaurant they usually do their special really well and everything else pretty mediocre. When I was introduced to the sticky fingers at Winger's my life changed. They quickly became something that I craved…often. Ian and I used to get some sticky fingers and potato skins to go and just pig out. I figured out that we could have wingers so much cheaper by buying their sauce and comparable chicken fingers at Costco. We could basically get 5 times the amount of what it would cost to get 2 large orders of sticky fingers. Towards the end of our stay in Utah, we discovered their sticky finger salad and boy was it good. Unfortunately, their are no chains here in Texas AND it's something that I still crave. I was watching this show online and was completely thrilled when they featured a knock off recipe for the famous sauce. It's so delicious and super easy…I know I say that about everything, but if you can stir and boil water, you can make this recipe. These are great by themselves with celery and ranch on the side, but add them to a salad and you have a balanced meal! The first time I made it I paired it up with this bread, but in the picture below I made homemade French bread…yummy recipe to come soon!
Sticky Finger Salad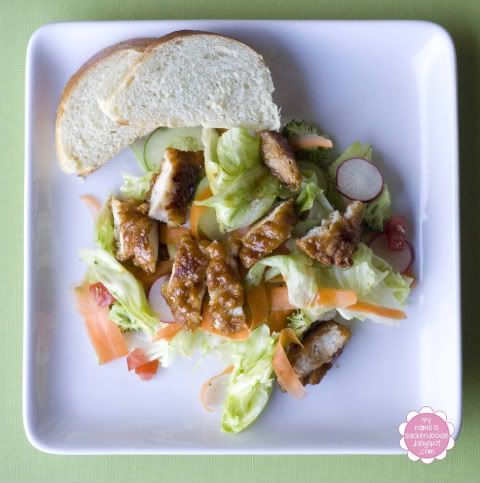 About 2 southern fried chicken strips per person
Your favorite salad ingredients, but I used
iceberg lettuce
grated carrot
sliced cucumber
sliced radishes
chopped tomato
Sauce:
2 1/2 cups brown sugar
1/3 cup Frank's hot sauce
1/2 cup apple cider vinegar
Bake chicken according to directions. Prepare salad and set aside. In a medium sauce pan, combine sauce ingredients and cook on medium high. Whisking constantly, bring to a boil. Once to a boil, cook for 2 minutes exactly. The original recipe called to boil it for 1 minute, but I didn't think it was long enough. Take off heat. Once chicken is done, remove from oven. Imediately coat each piece with sauce on both sides. *You can reserve some of the sauce and mix it with some ranch for your dressing. Slice chicken into smaller strips. Plate up salad and top with chicken strips.
I have been looking for this recipe for a long time. I first heard about it from my friend Lyndsey who spent some time with her sister in New York City. Then the movie, Serendipity came out which happens to be the same name of the restaurant where this originated. I had heard they were divine, but I couldn't ever find the recipe. I knew you could order their mix, but it was highly overpriced. Recently, I found the recipe here and knew I hit the jack pot. This one is definitely worth making…especially on a hot day. I used semi-sweet chocolate because that is what I had on hand, but I know I would like it much better with a good milk chocolate. But let your taste buds decide. (I adapted the recipe to make it a bit more easy cook friendly.)
Frozen Hot Chocolate


1/2 cup favorite chocolate chopped
2 tsp hot chocolate mix (I used Stephen's Milk Chocolate)
1 1/2 TBSP sugar
1 1/2 cups milk
3 cups ice
whipping cream
chocolate shavings
Put chocolate into a glass bowl that would rest on top of your small sauce pan. Fill sauce pan about 1/3 full of water…just enough to where it is not touching the bottom of your bowl. Place bowl on top and turn burner onto high to boil water. Stir chocolate constantly to melt. Once melted turn of heat. Add the cocoa and sugar, stirring constantly until thoroughly blended. Remove from heat and slowly add 1/2 cup of the milk and stir until smooth. Cool to room temperature. In a blender place the remaining cup of milk, the room temperature chocolate mixture, and the ice. Blend on high speed until smooth and the consistency of a frozen daiquiri. Pour into a giant goblet and top with whipped cream and chocolate shavings. Enjoy with a spoon or a straw. . . .or both!
**I unfortunately did not have any whipped cream, but it was, of course, still delicious. I also have some mint truffle hot chocolate mix that I am dying to try so I will let you know how that goes!