Since I have been doing FFF I feel like experimenting with food is a part time job. This was one of those happenstance moments where I had all the ingredients and decided to go for it.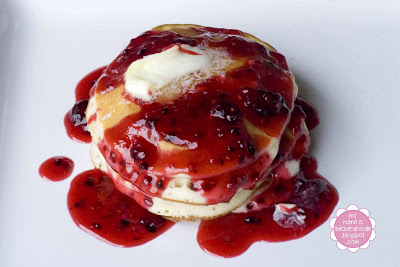 Banana Pancakes with Blackberry Sauce
Pancakes
This pancake recipe
Blend in two very ripe bananas and a pinch of cinnamon.
Blackberry Sauce
1 pint blackberries
1 1/2 cups sugar
Combine in a medium sauce pan over medium high heat. Stir constantly until sugar is dissolved and berries have broken down. Cool slightly before serving.
*I had blackberry freezer jam that I had made incorrectly so it didn't set up. That is what I used in the above picture. Really, any jam that you have on hand can be heated for about 20-30 seconds in the microwave to make a sauce for your pancakes or ice cream!
I have seen these cookies out there a lot in the foodblog world. So just in case you haven't, here is the most fabulous recipe! Originally it can be found here.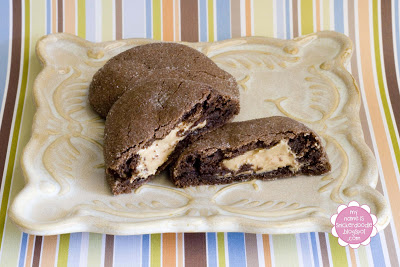 Magic In the Middle Cookies
Chocolate Dough
1 1/2 cups all-purpose flour
1/2 cup unsweetened cocoa powder
1/2 teaspoon baking soda
1/4 teaspoon salt
1/2 cup granulated sugar (plus extra for dredging)
1/2 cup brown sugar
1/2 cup (1 stick) butter, softened
1/4 cup smooth peanut butter
1 teaspoon vanilla extract
1 large egg plus 1 large egg yolk
Peanut Butter Filling
3/4 cup peanut butter, crunchy or smooth, your choice
3/4 cup (3 ounces) confectioners' suga
Preheat the oven to 375°F. Lightly grease (or line with parchment) two baking sheets. To make the dough: In a medium-sized bowl, whisk together the flour, cocoa, baking soda and salt. In another medium-sized mixing bowl, beat together the sugars, butter, and peanut butter until light and fluffy. Add the vanilla and the egg, beating to combine, then stir in the dry ingredients, blending well.
To make the filling: In a small bowl, stir together the peanut butter and confectioners sugar until smooth.
With floured hands or a teaspoon scoop, roll the filling into 26 one-inch balls. To shape the cookies: Scoop 1 tablespoon of the dough (a lump about the size of a walnut), make an indentation in the center with your finger and place one of the peanut butter balls into the indentation. Bring the cookie dough up and over the filling, pressing the edges together cover the center; roll the cookie in the palms of your hand to smooth it out. Repeat with the remaining dough and filling. Roll each rounded cookie in granulated sugar, and place on the prepared baking sheets, leaving about 2 inches between cookies. Grease the bottom of a drinking glass, and use it to flatten each cookie to about 1/2-inch thick. Bake the cookies for 7 to 9 minutes, or until they're set and you can smell chocolate. Remove them from the oven, and cool on a rack.
I doubled this recipe and took them to our family reunion last weekend Pictures to come!