This is a go-to recipe for me because I usually have all the ingredients on hand. I try to by the corn tortillas at Costco and then stick them in the freezer for future use. You get a million of them for under $3! I am really trying hard to stay away from posting casseroles (because of the stigma), but this one is too delicious not to share. So I am now dubbing casseroles…layered dishes…yeah, that sounds better!
(Click HERE for an updated version of this recipe.)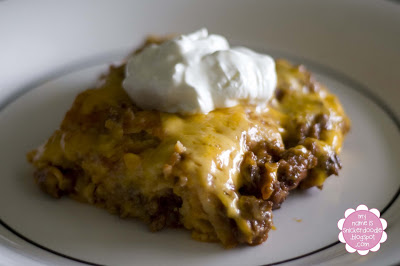 Layered Enchiladas
1 lb ground beef
1 small onion, finely chopped
1 can petite diced tomatoes, drained
1 can mild enchilada sauce
1 8 oz. can tomato sauce
1/2 tsp. cumin
1 tsp chili powder
1/2 tsp salt
1/4 tsp pepper
1/2 tsp onion powder
1/2 tsp garlic powder
1/2 cup sliced olives
2-3 cup shredded cheddar cheese
9-12 corn tortillas
Preheat oven to 350º. Brown beef and onion together on medium high heat. Once cooked through, turn down heat to medium low. Add in all canned and spice ingredients and heat through. Take off heat. Spray 9×13 pan baking dish with cooking spray. Spread 1/2 cup of sauce onto the bottom of the dish. Layer enchilada starting with tortillas, sauce then cheese. Repeat. You should get 3-4 layers. End with cheese on top. Sprinkle olives over the top. Put 1 tsp of water into each corner of dish (this will help steam the tortillas) and cover with foil. Bake for 35 minutes then uncover and continue cooking for another 10 minutes until bubbly and cheese is melted. Let it cool for 10 minutes before serving.
*I usually stay away from pre-sliced olives because they are so expressive compared to buying and getting twice as many whole olives and slicing them myself.
I don't have a dessert picture for you again. All the desserts I have been making lately have been from recipes that I have already posted. If you don't already have a great Texas Sheet Cake recipe in your arsenal, you must get one (this one perhaps). It was my favorite cake growing up and this is my mother's yummy recipe.
Texas Sheet Cake
2 cups flour
2 cups sugar
1 cup butter
1/2 cup cocoa
1 cup water
1/2 cup buttermilk
1 tsp baking soda
2 eggs
1 tsp vanilla
Mix flour and sugar in large bowl. In a saucepan boil cocoa, butter and water. Pour over flour mixture and mix together. Add in buttermilk, soda, eggs and vanilla. Blend well. Pour into a large greased cookie sheet and bake at 400 for 20 minutes. Prepare frosting and pour over warm cake.
Frosting
1/2 cup butter
5 TBSP milk
1/2 cup cocoa
1 tsp vanilla
4 cups powdered sugar
Chopped nuts (optional)
In a sauce pan, melt butter over medium heat. Remove from heat and add in cocoa. Mix well. Stir in milk and vanilla. Cool slightly then add in sugar and nuts. Pour over cake and let set.
Don't forget about the giveaway below!