So yesterday, my friend Regina gave me a shout on her blog for my recipes. So nice, right? She also linked to other some fun recipe sites (that you need to check out). Funny thing is that one of her favorites are these taquitos from a recipe site I had never heard of, but got it from another recipe site that I like that got them from that first site. Got all that? It's a little scary that I write the way I think…mmmmmm. I have only made them once, but made a double batch so I could freeze them and just heat them up later. Super easy. It's time to make another batch and I think this time I will make them with flour tortillas to make them even more delish! I found the recipe here, but originally can be found here. I altered mine just a bit with one of the steps and some of the ingredients. They are so much better than any frozen taquito you can buy at the store…trust me…definitely put this one in your files!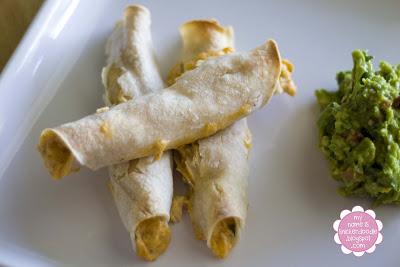 Baked Chicken Taquitos
4 ounces cream cheese, softened
1/4 cup green salsa or green enchilada sauce
1 tablespoon fresh lime juice
1/2 teaspoon cumin
1 teaspoon chili powder
1/2 teaspoon onion powder
1/4 teaspoon garlic powder
3 tablespoons chopped cilantro
1 green onion, sliced finely (use all of the white and most of the green part)
2 cups shredded cooked chicken
1 cup grated pepperjack (I used medium cheddar, but monterey jack would be fun, too.)
small yellow or white corn tortillas or small flour
kosher salt
cooking spray
Heat oven to 425 degrees. Line a baking sheet with foil and lightly coat with cooking spray. In a medium-sized bowl, mix softened cream cheese, green salsa, lime juice, cumin, chili powder, onion powder and garlic powder. Stir to combine and then add cilantro and green onions. Add chicken and cheese and combine well. You can prepare this step ahead of time. Just keep the mixture in the fridge.
Working with a few tortillas at a time, place 3-4 between two damp paper towels and microwave for 30-45 seconds, until tortillas are soft and pliable and don't crack while rolling. Place 2-3 tablespoons of the chicken mixture on the lower third of a soft tortilla, keeping it about 1/2 inch from the edges. Then roll it up as tight as you can. Place filled taquitos seam side down on the baking sheet, making sure they don't touch each other. When ready to bake, spray the tops lightly with cooking spray or an oil mister and lightly sprinkle some kosher (coarse) salt on top.
Place pan in oven and bake for 15-20 minutes or until crisp and the ends start to get golden brown. Serve immediately with salsa, guacamole or sour cream. If you plan on freezing them, let them cool completely on the pan. Place whole pan into the freezer to flash freeze them. Chill for 1-2 hours. Place taquitos into a freezer bag. Will last up 2-3 months. To reheat, place on baking sheet and cook at 450 for about 15-20 minutes. Or microwave for 2-3 minutes.
A few weeks ago my parents were at a friend's neighborhood party. It was potluck as I am sure all neighborhood parties are. My dad happened upon a "spice" cake that was practically gone in seconds. He was raving (I don't know if my dad actually "raved" about it, but you know what I mean…manly liked it) about it to my mom and their friends. Little did he know that the lady who baked it was sitting at their table. She politely gave the recipe (which is her grandmothers) to my dad and so here we are. I knew I had to make it if my dad liked it.
Let me just say this….it actually tastes like autumn. If fall had a flavor it would be this cake. The crisp air, the falling leaves, spicy candles, harvest, trick or treating, apple picking, hay rides…they are all baked into this cake. I know I say this all the time, but it's also so SIMPLE! Report back to me and let me know how you like it because I know you are going to make it this weekend. (Sorry for the poor quality picture…I made the cake late in the evening and I knew it wouldn't make it till morning. No, we didn't eat it all ourselves! We had company over and we are now giving half of whatever I make sweet away to friends and family.)
**The original recipe called for 1 cup whole wheat flour and 2 cups all purpose flour. I didn't have any wheat. It also called for unpeeled apples. I would peel them next time. I used golden delicious.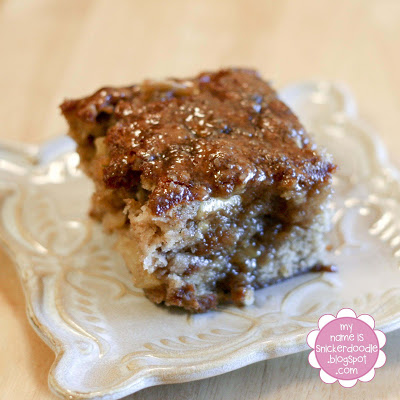 Apple Cake
3 cups all purpose flour
1 tsp salt
2 1/2 cups white sugar, divided
1 tsp baking soda
1/4 cup vegetable oil
1 cup applesauce
2 tsp vanilla extract
3 eggs beaten
4 cups chopped apples (about half a bite size)
1 TBSP cinnamon
1 tsp ginger
Glaze
1 1/4 cups packed brown sugar
1/3 cup milk
1/2 cup butter
Preheat oven to 350º. Grease and flour a 9×13 pan. Place chopped apples in medium bowl. Sprinkle 1/2 cup sugar, cinnamon and ginger over apples. Toss to coat. In a large bowl sift together flour, 2 cups sugar, salt and soda. Mix in eggs, oil, applesauce and vanilla. Batter will be thick. Fold in chopped apples. Pour into pan and spread evenly. Bake for 40-50 minutes or until toothpick inserted comes out clean. About 5 minutes before cake is done, prepare glaze. In a sauce pan, combine brown sugar, milk and butter. Bring to a boil and continue cooking for 2 1/2 minutes, stiring constantly. Poke holes into cake, using a fork or skewer. Pour glaze over hot cake. Cool 15 minutes before serving.
*Ian said it was actually better completely cooled, but he's not really into hot desserts. I figure eat it while it's hot and then you can still eat some more when it's cooled! We also decided that it would be even better if you doubled the glazed. Glaze like normal with half of the doubled batch and then pour more over it when you slice it up and serve.