Summer is half over. And wouldn't you know it…I have only had 2 snow cones. It's a shame. I will have to make up for it somehow!
I am in love with grilling, but unfortunately our new place doesn't allow you to have your own grill. But, luckily I got this "recipe" cooked a couple of weeks before we moved.
Chicken Kabobs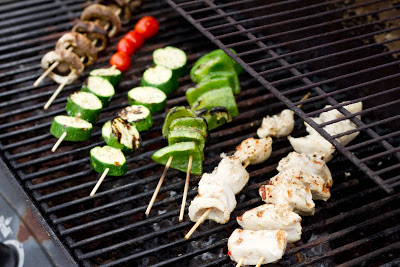 Chicken breast cubed
Your favorite Italian dressing (I used Ken's Steakhouse)
Your favorite veggies (I used green bell pepper, whole mushrooms, zuccini, and cherry tomatoes.)
Olive oil
salt and pepper
wooden skewers
Place cubed chicken in a gallon ziploc bag and cover with dressing. I like to place the bag in a bowl when I put in the fridge just in case there is any leakage. Marinate 1 hour up to 4 hours. The longer the better. Place wooden skewers in a 9×13 pan and cover with water. You will want two for every item you plan on grilling. Soak them for 30 minutes up to an hour. This will help them to not scorch (as much). Skewer each item with two skewers…this will help when you flip them while cooking, preventing the food from just spinning around. I didn't have enough skewers so I struggled a bit while cooking them. Brush all the vegetables with olive oil then sprinkle with salt and pepper. I like to skewer each item together to guarantee even cooking. Cook vegetables until tender and cook chicken until no longer pink in the center, about 3-4 minutes on each side.
I am sad that I don't have a picture of this next recipe because 1. I didn't let it freeze long enough and 2. It was guzzled up quickly! It comes from my fabulous friend, Karin (who is one fabulous cook!) It's a perfect summer punch.
Slush Punch
12 oz. orange juice concentrate
6 oz. lemonade concentrate
4 cups sugar
64 oz. pineapple juice
4-5 ripe bananas, smashed
6 cups water
Combine all in a large bowl and freeze overnight (very important, because I made mine that morning and it still wasn't set up by the time dinner came around.) Break apart and serve in a punch bowl with chilled Sprite, 2-3 liters.