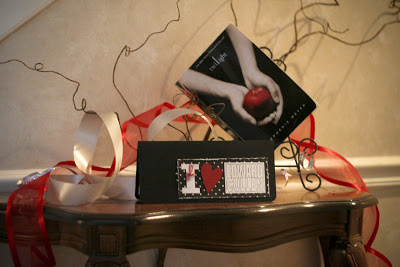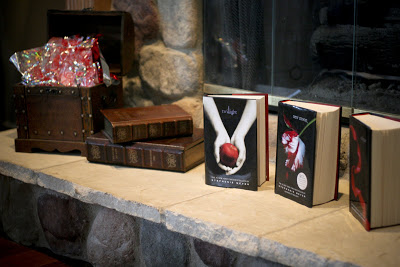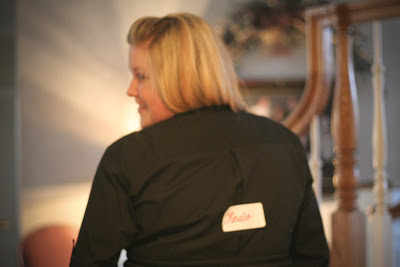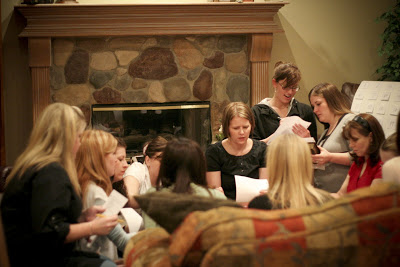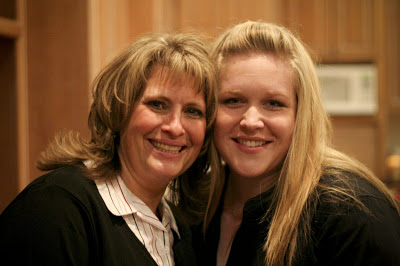 Wow, I had such a great time last night at the Twilight party! My aunt (on Ian's side) always is such a great and fabulous host, that I had no doubt it was going to be good. My cousin has been to two before so she was in charge of most of the games. Let me tell you…I wish I was the one who thought of this first! So stinkin' smart and fun! First, the food…very good…we did, cheese, chocolate, caramel and oil fondue…with everything dippable that you could imagine! One of my favorite parts is they covered water bottles with new labels. Marble Springs (Clear water from Washington's Olympic Peninsula) and Werewolf Water. There were two Jacob fans so they were out numbered, but still loved. So cute! Everyone got a character's name put on their back and had to guess who they were. I was Rosalie…no guesses as to why! I mean…come on…I look just like her! J/K! I didn't know half of the ladies there, but seriously became friends over this book. We shared who are favorite characters were. Other than Edward, I absolutely love Emmet! I think he is hilarious. I really thought I was a big fan. HOWEVER, I so was not. There was a girl there who had read them 5 times, a girl who was wearing a Bella Bracelet, (who knew there really was such a thing) and a bunch more that knew most of the answers to the trivia game we played. Crazy…and I even "studied" before I came knowing there was going to be a "pop quiz". We also fit in a fun candy bar game and family feud with a Twilight twist. Our team won! At the end we made cute beaded bookmarks and I love mine. I could have stayed all night, but it was getting late and I still had to drive home. Who would have thought that a book could be so much fun not just to read, but to talk about and party about!
I found some fun info on the author's site that I am (nerdily) excited about. She is coming to Texas for the release of her new series and I am so
there. I told Ian that I planned on going to her book signing and he just laughed. He know how crazy I can be. I dragged him to the midnight release of the 5th Harry Potter book and was a party pooper for the 6th and 7th book. So I dragged my friend Jenn to the 6th and my friend Karin to the 7th. Now I just need to find a new Texas friend to come with me to this! She is also coming to Utah (for all my Utah friends) so here is the info! Speaking of my friend, Karin, when I was at her house for scrapbooking the other night she played us the newest Miley Cyrus song (which I had just barely heard on the radio) and said that it totally reminded her of Twilight….kinda like from Bella's point of view about Edward. I went home that night and You Tubed it and now have the same thought about the song. So if you have not heard the song, check it out here and get into your Bella grooveness! Oh, my goodness, I cannot believe what a nerd I am, but am not ashamed of letting the blog world know! (Even though I have erased about half of this entry and severely edited the other half!)
Anyways, if you still have no idea what in the world Twilight is, I do highly recommend at least checking it out from the library and giving it a try. Everyone needs a healthy escape from reality and why not do it through a good book. And if you do know what I am talking about…let's just say…I hope that you are as big of a nerd as I am and are laughing with me…not at me!!!