My apologies for waiting until the last minute on this announcement. I have been feeling under the weather all week long and the last 3 days have been rough. I am crossing my fingers I do not have strep!!! Praying even harder that no one in my house gets sick from this either!
Sooooooo, the lucky winner is…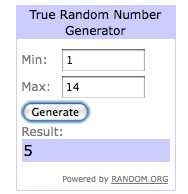 LACEY!!!!
She has an adorable blog and two very adorable little girls.
Congrats Lacey!
ALL of your super powers were cracking me up and some were so thoughtful. It sounds like most of us wish we could be healing, flying, premonitory super heroes…with a bonus of there being two of us so we could get everything accomplished! And of course we would look good because we could survive without having to eat food!
My super power…
being able to read peoples minds when I wanted to!