I have to start off saying that we had such a good time last night….with a side note….I forgot that I have been to a football game before. A couple years ago we went to a Dallas Cowboys game on Thanksgiving when we were living in Texas. And technically I have also been to many football games in high school because I was on the Spirit Team and that was basically our main duty. So I should have said, "I have never been to a BYU game." I even have been to the Cougar Stadium (or Lavell Edwards Stadium) plenty of times growing up because I used to perform there every 4th of July for their fireworks show.
ANYWAYS…I was really apprehensive about the whole dinner thing, but decided that I was going to be excited about the whole adventure. Our friends, Brett and Lacey eat at this restaurant plenty of times so we let Brett order for us. Every single thing I tried was delicious! Totally not what I expected one bit. I couldn't tell you what I ate, but I would definitely go again. I really surprised myself. Sometimes I let a little fear ruin my experiences, but there is something to say about opening yourself up and letting loose!
Now, the Texas update.
Ian and I flew out on different days because I had a standby ticket. I am normally not nervous about flying, but I hadn't flown by myself with a baby before. The morning that I flew out, I just kept saying little pleading prayers that things would work out. No matter what religion you are, I think everyone has had these kind of prayers. Everyone one of them was listened to. I got to bring Liam's carrier on and he got his own seat. With the added bonus of him sleeping the entire way, the flight was fabulous!
My mother-in-law picked us up and we had a great day together working on Liam's quiet book. The next day Ian flew in to take pictures so we didn't get to see him until late afternoon. It's so fun to be with family that you haven't seen in a while. It's funny to hear the same stories of things in the past, but they don't seem to get old (yet). That night we were lucky enough to have some time to spend with friends that used to live in Texas, but moved shortly after we did. They were in town at the same time we were so we had to get together. And of course it had to be at Pappasito's for fajitas. They girls are getting so big and even though our time was short, we had a fabulous time.
The rest of the time was spent helping Ian take family pictures at the gorgeous Botanical Gardens and just hanging out. A little tease to Ian's family, but I have seen some of the pictures and they are gorgeous! After the baby blessing we had a great luncheon where these pictures were taken…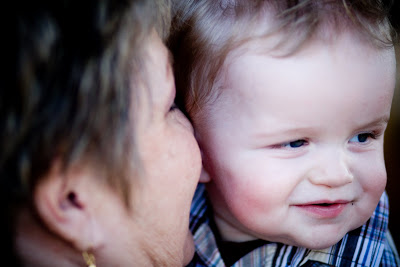 I love this picture of Liam and his grandma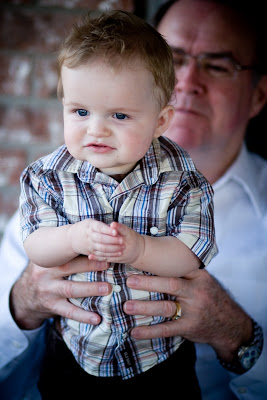 And this one is fun with his grandpa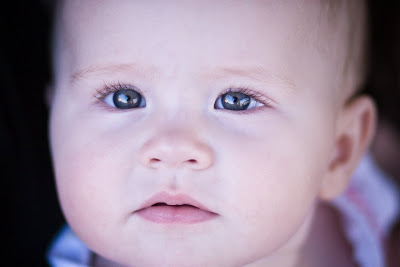 Cutie Kennedy!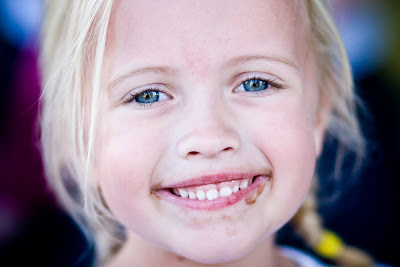 I love pictures of kids with the reminants of a delicious dessert on their faces….the adorable Sydney.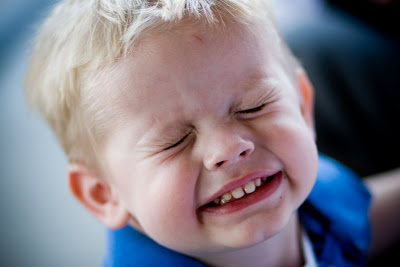 Landon is at the phase where this is his "say cheese" face! So stinkin' cute!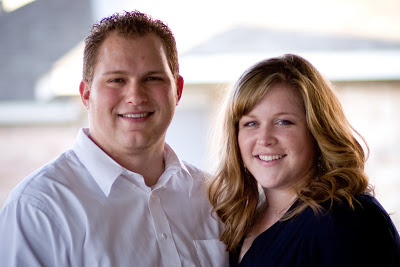 We had a great time and wished it could have been longer. Even with flying out on a pretty perfect flight, I was still really nervous about flying home. Those of you who have flown with a baby know what I am talking about. I had his diaper bag, a carry on and his carrier. Going through security is the most rough part about it. I had some liquid items that I needed to keep track of…so I had a bottle, that bag of liquid items, having to take off my shoes, take Liam out, and then try to push the 4 buckets down the counter while maintaining a death-grip on my boarding pass. The business man in front of me was so nice and let me go in front of him and helped me put the buckets through the scanner. I usually don't like to take help from anyone, but something told me to just let him. I really needed it and I am sure he was blessed because of it. I was so grateful for that because in just those few moments my day was brightened. And it didn't end there. As I was getting on the plane and had to walk down the longest hallway to get there, the lady in front of me helped me with the carrier. She actually (not knowing) was asked to switch her seat so Liam and I could sit together again. We ended up sitting on the tarmac for an hour before we left, but Liam did fabulous. This same lady helped me and carried my bags to baggage claim for me. She was a grandma and was returning home from visiting her grandchildren. I was so tired that I was almost in tears because of her generosity. It might not have been a big deal to her, but it made the world better for me. So thank you to the two strangers who decided to be kind to a stranger!