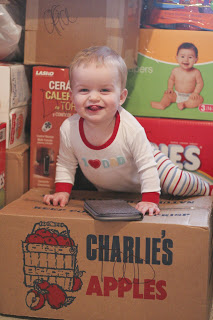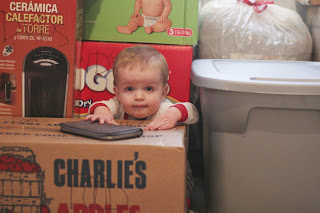 I am now 99% packed up. I just have some things to disassemble, but those will have to wait until last minute. I call Liam my little box inspector. Everywhere we turn they are boxes so they have become his new play toys. (*note* I do watch him carefully so he doesn't get into trouble so don't think I am that bad of a mom!)
I have been going a million miles a minute I feel like, but has been wonderful because I have been with family and friends the whole time. I also feel like I have an appointment book because I have to schedule time to be with them all.
Tuesday night was my last girls scrapbook night out. Karin dro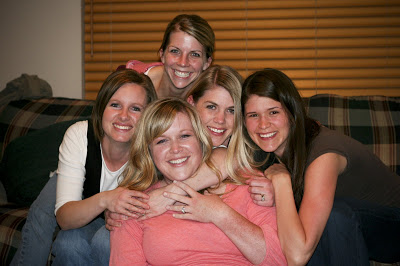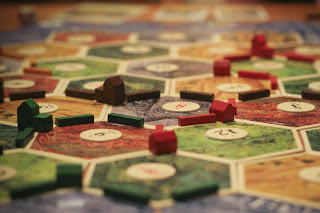 ve totally out of her way to pick up Cafe Rio for us all. We enjoyed their yummy salads! I was the only one that got anything done…*cough* one layout *cough* while Karin got her albums organized, Jamie looked through Karin's albums, Katie brought her pretty jewelry kit and Lacey came for the company. We all had a wonderful time. Katie, right under my nose, made me a darling beaded braclet and gave me some beautiful pink earings that she had made earlier. I have worn them every day and LOVE THEM. I will have to get a picture. We talked about everything under the sun, but our top two topics were American Idol and Twilight! Everyone was pretty much done with scrapbooking around 10:00, but it was too early to go home. So we broke out Settlers of Catan. I have only played it twice before so it took me a while to get a hang of it. I forgot how fun it is. Definitely something that you have to play with the right people! Jamie won and we were happy for her…I guess! Just kidding. If you haven't played it, you need to. It's a blast! I love these girls. Our ward and neighborhood is simply fantastic and I am going to miss them so much. We have really been blessed to be where we are and to have learned from all of them. So many great examples of wonderful parents, teachers and friends.
Yesterday I got to meet up with my good friend Kristie and her daughter at Cold Stone Creamery. I could go there just for the smell of the waffle cones! Our time was short, but so good. We became friends a few years back through scrapbooking. She is so talented and stinkin' smart. She cracks me up and I love it. They gave me the most adorable material to make a blanket out of and acrylic blocks for stamps that totally came in handy because the day before I had bought some adorable clear stamps that I was going to use without the blocks. I am sad because I forgot to put my card in the camera so I have no pictures of us. She will be missed!
Today I went by Holly's house to drop off some inventory for the business we are doing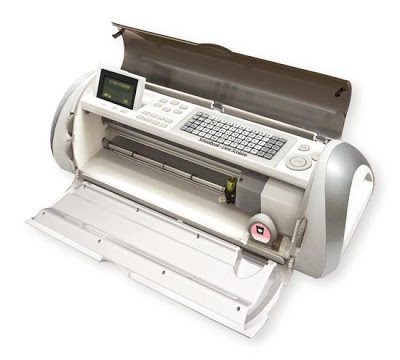 together. She is pregnant and so not feeling well, but still looked fantastic. She is going to be missed as well, but we will be in contact…and hopefully soon I can let you in on the secret business! What a super surprise when she told me she had a gift and it ended up being a Cricut Expression! Holy Cow! I started to get a little teary, but held it back because I was so excited! I love her. She is definitely one of the most generous people I know…and not just because of that gift! I am very excited to use it! It really made my day.
Well, tonight is the Twilight party and I cannot wait. I have been "studying" very hard just in case there is a pop quiz or something! Tomorrow I will dedicate my entire post to this wonderful nerdy life of Twilight!