A totally disusting title, I know, but I must heed the request from my dad to call them such!
When my mom grew up, her grandmother, my great grandma (of course) made these cookies every Christmas season. I think she got it from her mother (but feel free to correct me, family members.) There are many stories attatched to these cookies…most ending up with the my mom and her siblings getting in trouble because they tried to sneak them when they shouldn't have.
I remember only having them a handful of times, but loving them. She didn't make a ton (as you can see from the recipe they are time consuming) so you usually only got one or two. About 11 years ago, my grandma arranged for me, my mom, my aunt Sara and my cousins Ciera and Angie to go over to my great grandma's house and learn how to make these little gems. We spent most of the morning there and it was totally worth the smile on my great grandma's face. Lucky enough I have a picture to remember the moment. Remember my talk about the wiglet???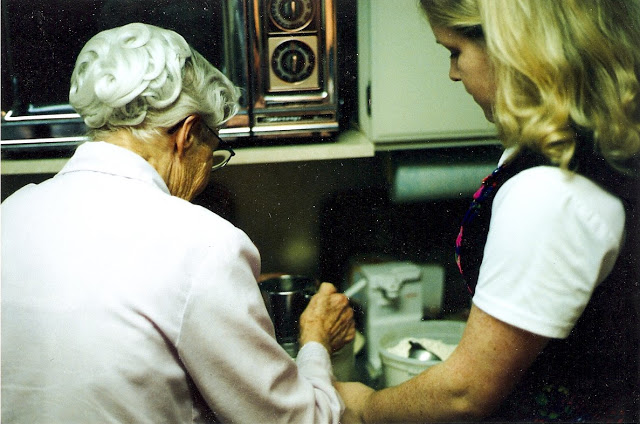 (Sorry for the speckley picture. My scanner hasn't been used in forever so it's a little dirty.)
Great Grandma Potter's Ginger Cookies
1 cup sugar (brown or white)
1 cup shortening (original recipe called for lard…if you feel so inclined!)
1 cup dark Karo syrup
1 cup warm water
2 heaping tsp baking soda (dissolve this in the warm water)
1 rounded tsp of ginger
1/2 tsp cloves
1/2 tsp salt
7-8 cups flour
Sift together 7 cups flour, salt and spices. Set aside. Cream together sugar, syrup and shortening. Then mix in water with baking soda in it. Mixture will foam. Add in dry ingredients. Dough will be slightly sticky, but add in 1 more cup of flour if too wet. Roll out onto floured surface. Dough needs to be 1/4 inch thick. Cut out even amounts of round cookies using round cookie cutter.
Filling
2 1/2 cups raisins
1 cup sugar
2 heaping tsp flour
1 tsp nutmeg
In a medium pot, pour in raisins and cover with water just barely to the top of the raisins. Add in remaining ingredients. Cook on medium heat, stiring constantly. Cook until thickened. Just enough so it's not runny.
Spray cookies sheet with Pam. Put one dough round and place a teaspoon of filling in the center. Cover with another dough round. You don't need to seal the edges. Bake at 325 for about 12-14 minutes. Once in container, let them breath. Do not store them in an airtight container.
Part of
Shelly's
Recipe Extravaganza!