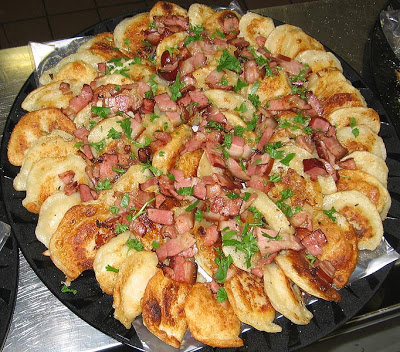 I love potatoes.
A simple, yet unfortunate fact. Any way you cook them, I will eat them. I was introduced to a brand new way of having them when I spent some time in Canada.
PeRoGiEs!!!
Delish. I got a recipe from a little old lady (whose name I cannot remember) who got it from her mom who got it from her mom when she came to Canada from Poland. For those of you who do not know what they are, they are like little pockets of potato goodness. It's a simple dough mixture that is filled with mashed potatoes and whatever other filling you like. Today I made grilled onions, bacon and cheese filled ones. I have only made them one other time since I got the recipe 10 years ago because they are time consuming. But now my freezer is full of them. I forgot to take a picture of the finished product so here is one off the internet. Once you boil them, you can fry them up in butter, onions and more bacon. I, however, opted just for the butter tonight.
Speaking of a cardiac arrest…I am off to make some cookies.
Aunt Flow came to visit. ugg!
Sometimes I hate that I know how to bake.