it totally snowed over the weekend! Saturday morning my mom watched Liam while I helped Ian take engagement pictures (in a cold drizzle) and they turned out great! Afterwards Ian treated me to the best hot chocolate at Border's. We should have taken a picture because it was also a gorgeous cup of hot chocolate with piled high whipped cream, white chocolate shavings, drizzled with chocolate with a chocolate stick on the side. Anyways…when we got home, Ian went into the kitchen and proclaims,"It's SNOWING!" We stood at the door in awe because IT WAS SEPTEMBER!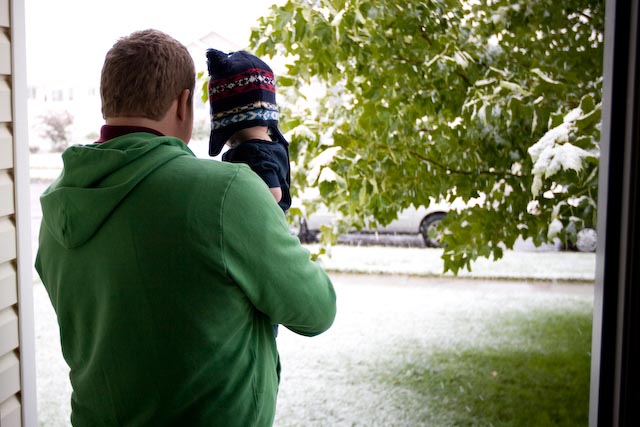 I absolutely love the snow so I want Liam to share the same craziness. He had just gotten up from his nap so I slapped a hat on him (purely for the picture) and headed back to the front porch. He really couldn't have cared less when we took him outside, but I loved sharing the moment with him and Ian. It came down for almost 2 hours…enough snow for a couple of families in the neighborhood to make snowmen.
It then turned back to rain where I had to drive my friends to the Women's Conference. It wasn't too bad because we took Trax most of the way. I don't think I have ever seen so many women and umbrella's in my life. It was so awesome and went by quickly. That is when you know you are having a good time. We ate at Johnny Carino's afterwards where the food was fabulous, but the service was awful! We got a free chocolate cake out it so I guess I can't complain too much.
Sunday was a blast with our cousins. After lunch we headed up a canyon to take some fall pictures. I was so set on those darn red and orange trees that I started to get dissappointed when all I could see were pine trees. This was a different canyon than last weekend so I don't know what I was expecting. However, we did find a beautiful location that had a small little creek and fun mossy trees. Even though it was freezing cold everyone had the best time and the kiddos were great!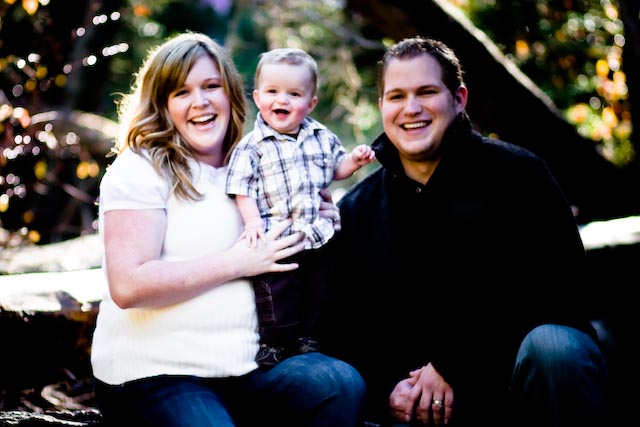 I absolutely love Liam's smile in this one. Isn't he just the cutest?