and I am here today at Twilight Anonymous because I am addicted to Twilight.
I am currently seeking treatment, but just like overweight people who go on a "diet", they usually gorge themselves the night before. So I am going to gorge myself on Twilight this one last time and review the movie for you. I know that all 4 of you have been dying to know what I think!
Thursday was a fantastic day! Long, but fantastic! Lori had preordered our tickets a few weeks before so we felt secure about that. The only thing I was worried about was getting a good seat. We decided to meet everyone (Regina, Stephanie, Loralee, Jennifer and Jenny) for dinner at Cheesecake Factory around 7:00pm and then head over to stand in line. Lucky enough, Lori and I got to the theater at 5:30 and people were already standing in line since 1 that afternoon!!! I thought we were crazy for showing up 6 1/2 hours early, but that just surpassed it. Knowing that we really couldn't survive on popcorn for dinner the two of us got a quick bite at the Cheesecake Factory and some cheesecake to go. By the time we got back to the theater the line had doubled so we were now about 50th in line. Good thing we had our camping chairs because we were literally going to be "camping out" for HOURS!!! Regina showed up first and decorated her chair. Our chair glory was lost because at 8 they let us all in the theater. Everyone showed up shortly after in their cute shirts! We were practically the oldest ones in the theater, but we didn't care. The managers of the theater were playing the soundtrack and got together some games to play while we waited. SO FUN!
The minute the Twilight title showed up on the screen…screaming could be heard on the moon from our theater…for almost the entire movie ! I remember when they got to the prom scene, I leaned over to Lori and commented that it couldn't be over! We waited for so long (since I read the books over a year ago) and the whole film went by so quickly. It was so great to hang out with all the "girls" and be a crazy fan with the 6 of them! You are the best!!! *Side note* We ended up getting some free popcorn because Stephanie and Loralee tried out for the coolest t-shirt contest. The guy that we bought our popcorn from was named Cullen. How cute!
Soooooooooo, I absolutely LOVE IT! Now, I didn't love the entire thing…a few things bugged me, but I got over them the second time I saw it (the very next day at 4:00pm) and LOVED IT even more. It was weird because this audience was totally quiet the entire movie.
First, the things that bugged me…
It had too much of an independant film feeling for my particular liking. I know that was what they were going for, but I love big budget films.
Robert tended to over react facially in two different parts…I chalk that up to bad directing.
A mention of having safe sex was mentioned and I didn't appreciate that it took away from their abstenence relationship.
And last, the editing was aweful! I am pretty picky about those kind of things in all the movies I watch, so usually I am bugged by that in all films I see.
Things I absolutely LOVED about it…
Even though it's not the Edward I pictured, Robert did a phenomenial job.
Charlie totally made the movie funny for me. Weird, I know because I didn't really like him in the book, but he was hilarious!
I loved how dorky they made Eric. He was also hilarious in a nerdy way.
The bedroom kissing scene…enough said.
The meadow scene…enough said.
Dancing under the gazebo…enough said.
The ultimate part I loved the best was when he picks her up to go to school for the first time and they get out in the parking lot. OH MY EDWARD!!!
They also used way more lines from the book than I had anticipated.
I really could go on and on about it, but I will save you from my insanity. If you are not a fan of the books, I would recommend not seeing it, because there is a great chance you will hate it. And we don't need your ticket money "donations" anymore because they already announced the movie made enough money to make New Moon!!! Fabulous news!
I owe my fabulous weekend to Ian. He and Liam were and still are really sick, but Ian totally took care of everything so I could live the life of a crazy fan for a day and a half. However, I am not going to talk to him about Twilight for a while. Let's just say, he is all Edwared out!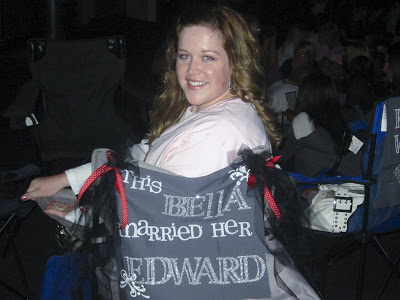 Our super fun chairs that saved our back sides for having to sit on the ground forever. I totally recommend it for the premier of New Moon.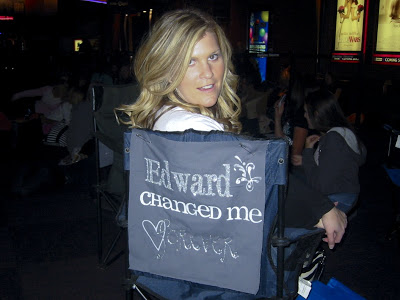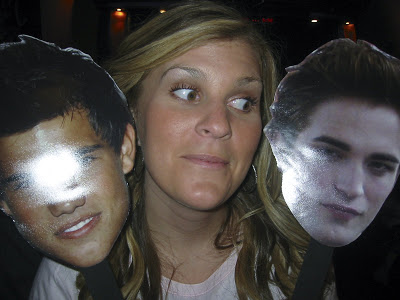 Edward and Jacob decided to make another appearance. How lucky were we?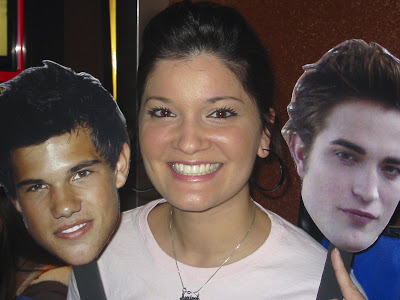 Spreading the love to Regina!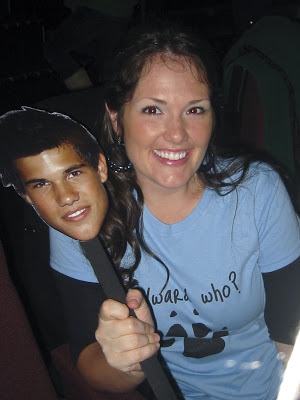 Stephanie is warm blooded through and through.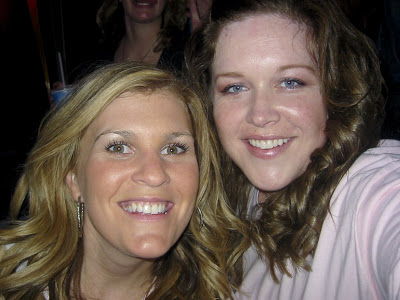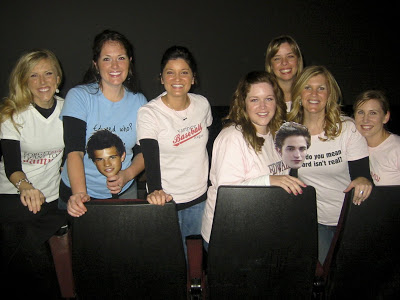 We had wonderful seats! The theater was monstrous!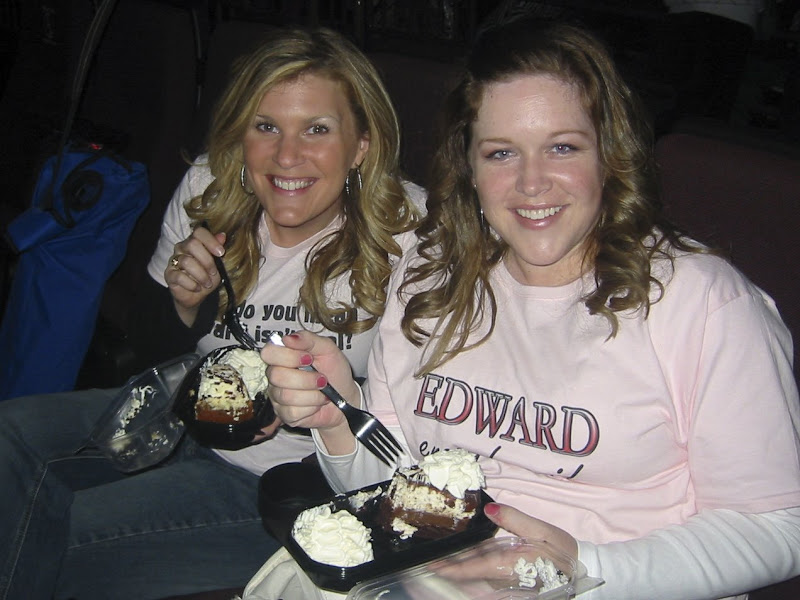 Lori and I enjoying our snuck in cheesecake. Thank goodness for big purses!