A few months ago we made some major changes around here in our house.  My oldest son got his own room and I got my own office.  We also consolidated all the toys from the toy room (my current office space) and placed them in some cubbies in the two youngest room.
It truly was a tornado for a few weeks, but it eventually got better as we organized and put everything in it's place.  Not to mention that it helped a ton that we got rid off a TON of stuff!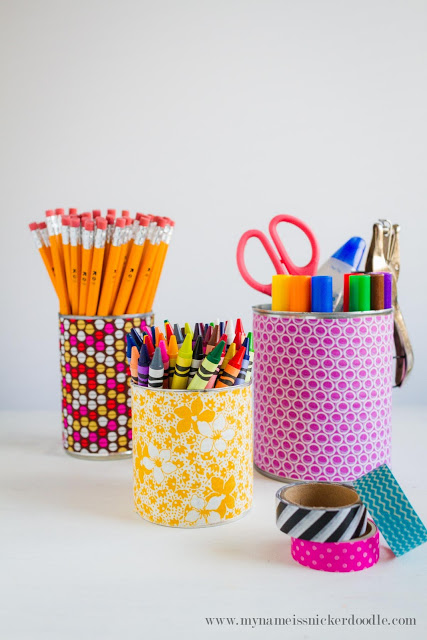 In the process of it all I thought how cute it would be to have some fun (and inexpensive) places to hold office supplies and the never ending flow of crayons around here!  The boys like to hang out with my while I'm in my office and draw or create something.
These fabric covered tin cans were just the trick and turned out perfectly!  I actually had everything on hand and made them within a matter of minutes.  Aren't they totally adorable?!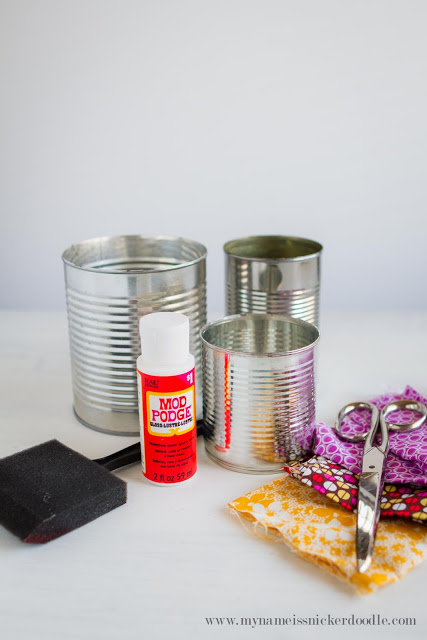 Fabric Covered Cans Supplies
Tin cans
Cotton Fabric
Pen
Sharp Scissors
Mod Podge
Foam Brush
How To Make Fabric Covered Cans
Using a safe edge can opener, remove one lid from a tin, empty contents and wash out with soap and warm water.  Dry completely.
Lay
out fabric, wrong side up, and measure the width of the can onto the
fabric.  Lightly mark it with a pen.  For standard 14 oz cans the width
is 4 " and standard 28 oz cans are 4 1/4″.
Use a ruler to mark a
straight line of the entire width and long enough that it will cover the
entire can. Skip this step and the next if you are comfortable using a
rotary cutter and  mat to measure and cut.
Cut along the pen line with scissors.
Using a foam brush to paint a little mod podge onto the can.  I like to work in 2″ sections along the width of the can.
Lay
the edge of the fabric over the painted on mod podge and center onto
the can.  Lightly press to make sure it sticks.  Too much mod podge will
make it slide around so make sure to use it in moderation.
Keep working around the can until you've reached the first edge.  Over lap it a little.  Trim off any excess.
Let it dry for 10 minutes.
If
you plan to use these fabric covered cans in a bathroom or kitchen, I
would add a thin layer of the top of the entire fabric to seal it in an
prevent stains.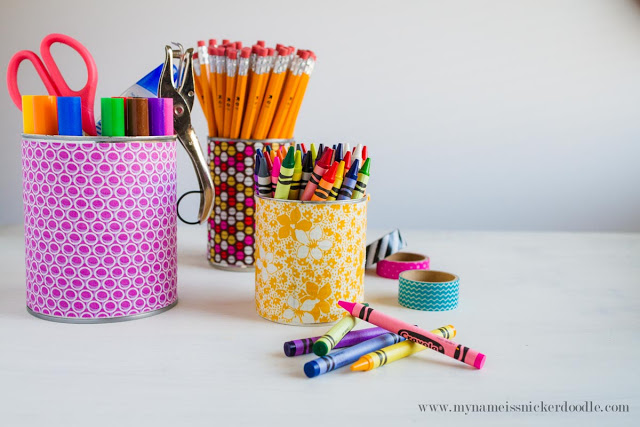 You could made these in any fabric combo.  I personally love mixing my patterns.  Whatever you choose I would love to hear how it turned out so tell me all about it in the comments below!