You might be a little surprised to see a decorating post here on my self made 'food blog', but this year I'm branching out to share new content! I'm hoping to share more decorating, crafting, printables, motherhood posts along with all of these delicious recipes. Speaking of recipes, make sure to check out my recipes tab. I've been updating it to make it more user friendly!
We have lived in our comfortable home for almost 4 years and we are just starting to scratch the surface in getting around to decorating it properly. Coming from a tiny apartment we didn't really worry about decorating much so when we moved into a beautiful 4 bedroom home, we had our work cut out for us.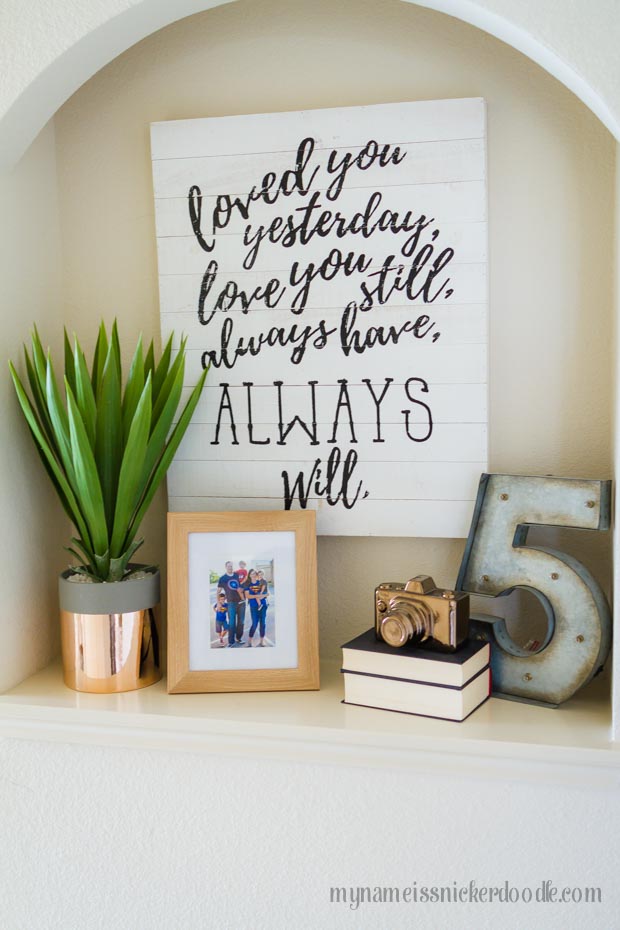 The very first thing you see when you walk into our home
is this little inset nook. At first I was super excited about it
because I had a little spot to decorate. Then it just because daunting
because I didn't really know how to decorate it!
I would layer up frames and had fun overcrowding it with holiday decorations.
Here
is what I did for Halloween one year. It was fun, but I was never satisfied.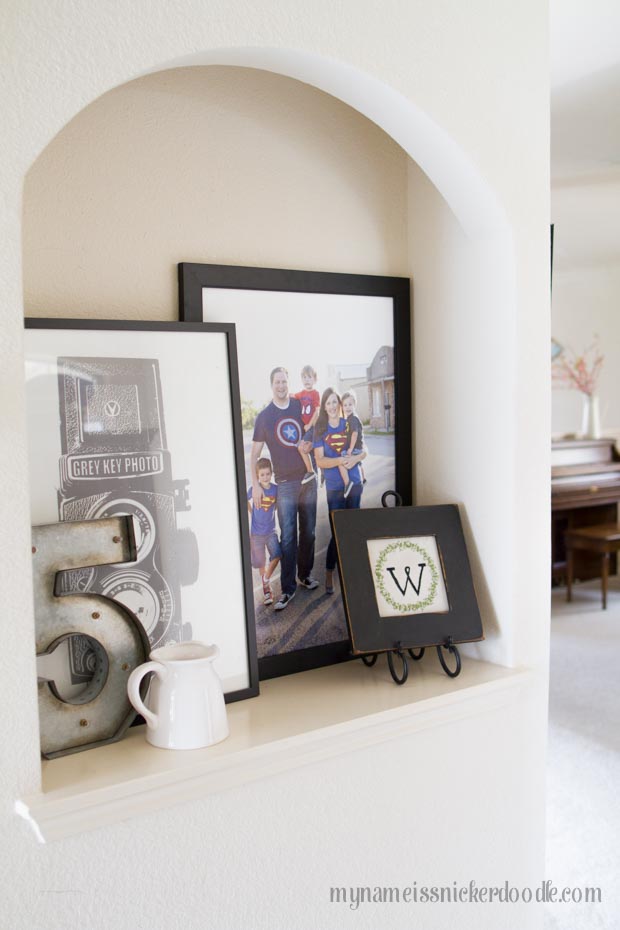 I've learned over the years that if you aren't good with something in your life…ask for help! Simple, right! My totally adorable friend Ashley is an interior decorator and offered to come over and help me with my awkward small space. (Make sure to check out her Instagram account, too!)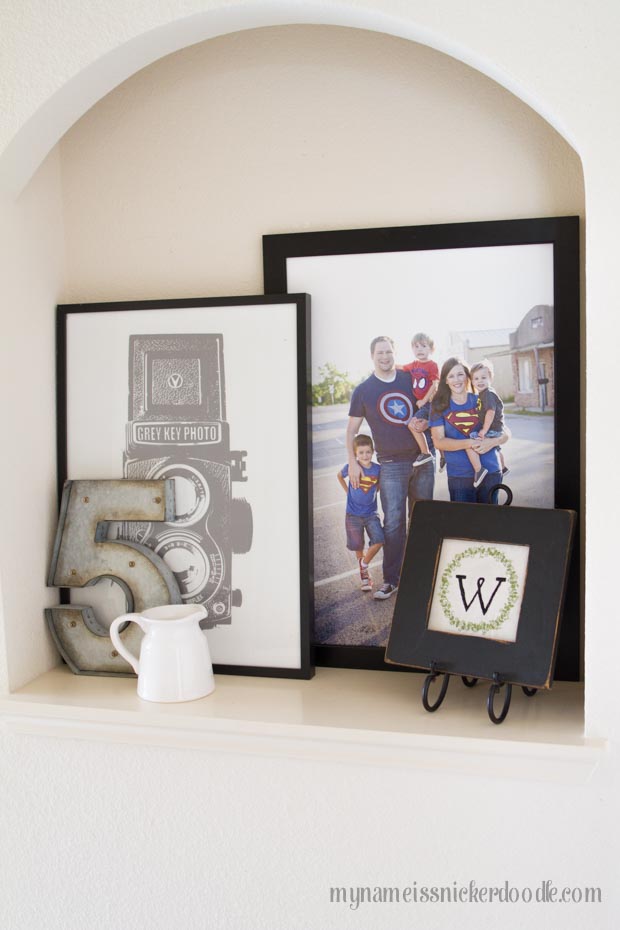 I recently had bought the wood pallet sign from Hobby Lobby and knew it had to go in that space. After that, I was lost of how else to pull everything together. She came over in a snap and made it all look effortless!
Here are some tips that she shared with me on how to decorate a small space…
Must haves: Something vertical, something horizontal, something that shines, art work or picture and something natural.
1- Place tallest objects first. Items could include books, plants, flowers, art, lamps, vases, etc. Be sure it is not too large for the space.
2- Place horizontal item(s) second. Items could include: trays, books, decorative boxes or bowls, baskets, etc.
3- Place art. Art could be placed on top, behind, or next to the items already placed.
4- Fill in!: Place smaller items in spots that are lacking.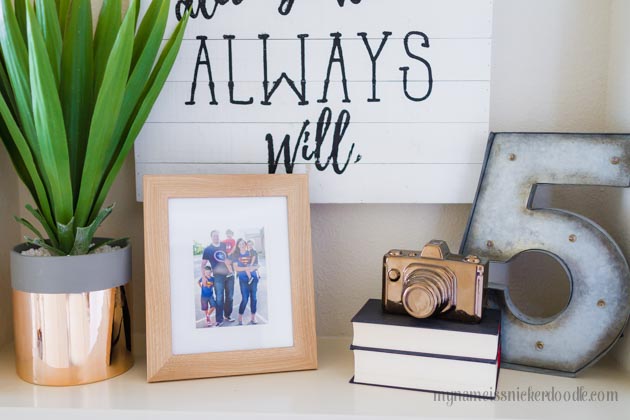 Tips:
If
you are decorating book shelves, always start by placing your media
(books, magazines, records). Place books both vertically and
horizontally to add interest.
Do not over-clutter or over-think.
If
you are styling multiple shelves be sure to take a step back to see how
each shelf works with the other. Did you place all your vertical items
on the left? Are there more items on one shelf than another. Here is the time to fix it.
Be sure to place heavy or oversized items on the bottom
shelf to give some visual weight to your newly adorned book case or
built in.
Wanting to update your old bookcase? Line the back with wallpaper to give interest and character.
Here are some of the trends for 2017…
Gold and rose gold
Carrera marble and Brass
Forest Green
Wallpaper
Geometrics
So, what do you think? I completely LOVE this little nook now! She kept our family in mind and added the camera because we love to take pictures. With those tips above, you can totally decorate your small space and have it looking fabulous! No need to shy away from doing it. Shop around your house or splurge a little and head to your favorite store!