so I will start it out with a couple of sour notes. Literally!
Last weekend we had Ian's family reunion in Oklahoma. On our way out to our mini visit, an unnamed person from our household (who was thinking about lessening our electric bill) turned down the refridgerator and turned off our air conditioning. Being gone for four days, we would save some money. Upon returning home we stopped off for some milk and when I went to open the fridge to put in said milk, THE NASTIEST smell came wafting over me. The unnamed person had turned the fridge, which was subsequently attached to the freezer coldness, completely off accidentally. No more freezer jam. No more coupon deals of free items that I had frozen. No more door full of condiments. Ian…I mean the unnamed person…spent the next 20 minutes gagging while emptying everything out and wiping it down with clorox cleaner. The unnamed person felt so awful about it, but it's just food, right? The smell is still lingering and would love any tips that you can give me to get rid of it. The baking soda is just not cutting it.
Sooooooo….That was Monday. Tuesday, Liam woke up from his nap crying when he had only been asleep for an hour (he takes 3 hour naps) I walk in to console him and just as I open the door, I am just in time to witness him throwing up all over his bed. I whisk him away to tub and rinse him off. I know that the only thing that is going to make him feel better is his blankie (a blessing and a curse) but it is covered in chunky sick with all the rest of his bedding. As I am rinsing it all off in the tub, I start to gag. I don't do well with that sour smell. Liam, who is just holding on to my leg whimpering starts to laugh his head off the more that I make the gagging noise. He thought it was hilarious. As long as he was feeling better I guess. He threw up a few more times and then was back to his normal happy self the next day.
Thank goodness for that because it is when I got sick. Wednesday and Thursday was my turn to whimper and lounge around. Ian was sweet enough to b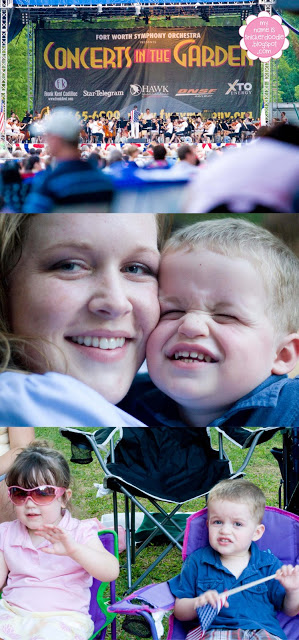 ring me daisies ("They are so friendly. Don't you think that daisies are the friendliest flower?" What movie?) to make me feel better.
We though Ian was in the clear, but he didn't get out of it so easy last night. Today he is recovering, but feeling better. So a warning…some 24 hour flu bug is going around!
Now lets rewind and end this with some good feelings! The Thursday before the forth some friends of ours got free tickets to Concert in the Garden at Botanical Gardens, one of my favorite places. Ian and I have always wanted to go, but just never have. When they invited us, we couldn't say no. I thought Liam would love the fireworks, because he did last year. This time he sat glued in my lap with his hands over his eyes. Ever now and then he would peak through, but did not want to move. It was so wonderful to hear some of our patriot songs played by a beautiful orchestra and seeing a fantastic display of fireworks.
We got home late of course, but I had most everything packed for our weekend trip. This was the second time we have had a reunion for Ian and his family. Time has flown by since the last one.
Since I have already bored your ear off here was the rundown.
Friday we drove up to Oklahoma to Ian's brother's house where the rest of the family was waiting for us.
That afternoon we spent a few hours at their local water park and had a complete blast. I felt guilty because Liam was missing out due to he needed a major nap.
Friday night was probably one of my favorite experiences the whole trip. All the adults went and saw Transformers. What is so special about that you ask? Two of their theaters have a huge balcony restaurant. You sit in the most comfy overstuffed chairs with a seat warmer. As if that wasn't enough…you order dinner from a full menu of goodness and they bring it to you. AND you can get your drink refilled throughout the movie or order popcorn and goodies by pushing a little button. I felt like royalty…and now I am spoiled! The full stomach and seat warmer did me in. I fell asleep halfway through the movie and woke up as the credits were about to roll. Ian loved it so I look forward to seeing it fully on DVD.
Saturday we got up way too early for a vacation and went to the local parade. I love parades! I love watching the Macy's Parade on Thanksgiving and attending the Provo Parade on the 4th. This was nothing like those two. The only similarities was people walking the American Flag being held by the BSA. This parade consisted of 1,436 old time cars with horrible exhaust, 7,189 creepy clowns and ALL of Oklhoma's Shriners on 4 wheelers. We did get some fun pictures, though.
Everyone took a much needed nap.
Liam's cousin, Spencer, is the only boy of 4 girls who laaahhhuve to play dress up. So in trying to prevent a little Mr. Snow White he has a plethora of super hero costumes. Liam wore this Wolverine costume practically the whole time we were there. Not the best pictures, but I had to capture the moment.
After our well rest we had a delicious BBQ and played some games. We had intentions of going to a fireworks show, but it started to rain and only 2 adults and some kids wanted to still go. We quickly came up with an alternative plan to just get some sparklers and call it a night. The home owners were a little skeptical about doing anything big and suffer the wrath of their HOA. Rightfully so. As we were hanging out in the front yard, we got talking to the neighbors and practically everyone on the block lights fireworks. So we sent off some of the troops to buy us a fireworks show. $60 of pyrotechnics came back and we were ready. By then the rain stopped. Ian and Jordan put on a wonderful show. Then we enjoyed the next door neighbors $500 show. Good times!
Sunday was our family picture day. It was hilarious to see all of the siblings become Ian's little man/woman/ servants because we all now how much Ian sweats and works hard. We didn't do anything fancy, but just took a couple of shots. I wouldn't consider his family to be picture people so we try not to make it too painful.
It was another restful/lazy day just playing around. Some of us went to the park to play Homerun Derby. I had never heard of it before, but needed some outdoor time. Basically you just hit some baseballs (in our case, tennis balls) and try to get some points for yourself. It would be safe to say that I shocked Ian's family by actually hitting some of the balls. They didn't go far enough to score any points, but I was happy with myself.
Monday all the boys went to the driving range to bond. Once they got back a few of us went on a shopping spree for Jordan and Amy's house. Amy doesn't consider herself a decorator and stresses over it. We broke up into teams at Garden Ridge and just started loading carts full of pictures, greenery and chotchkies for their kitchen. We rushed back and quickly decorated and hung to our hearts content…all while Amy was out of the picture. It was her birthday the next day so we did it collectively as our present to her. The decorating, not the buying. That was Jordan's job. It turned out perfect and she absolutely loved it.
That afternoon we drove home and relished in another great reunion.
*If you are having trouble sleeping, just read this super super long post again and you will be right out!