and his name is Donny Osmond. I know, I know!
I am a huge fan of Dancing With The Stars (judge in silence please) and this season I am so
mesmerized by him. ESPECIALLY his dance this last Monday. I have no words except that I am an even bigger fan. It basically all started when I was very little. I remember I had a t-shirt of the Donny and Marie Show that I used as a night shirt. I wore that thing out. (Even though I had never seen the actual show.) I have close family members who have connections with the infamous Osmond family and in turn so do I, right? I remember my grandma had a picture of Donny taped to her computer screen at work that she had taken when they were on a trip together in the 60's or 70's. I remember just thinking that he was so cute…despite the fac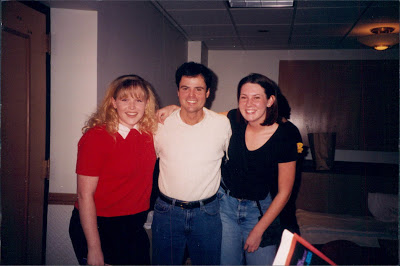 t that at that time he was old enough to be my father…but I didn't know these things being 13 or 14. I just knew that his 17 year old self was super cute! When I was older and he was in Joseph, my grandma got tickets AND backstage access to say hello to him. I didn't know it then, but I was smitten. Who cares that his oldest son went on his mission the same time I did. Who cares that I will never ever meet him again and that we are both married with kids….and short. Ian is completely okay with this…his secret crush is Marie. Well, now that I think about it, this could be sick and wrong. OH WELL! Move over Orlando, Tom, Robert and Robert…Donny is taking center stage!
***If you have read this entry and think that I am completely serious…go back and read it as if it is dripping in cheese!