a tension headache. I don't know if it's getting better or worse, but I wanted to update my blog about why I have one. All good things of course!
For some reason our place always gets trashed over the weekend so Monday I cleaned all day…well it certainly felt like all day. That night I went to a friends house to watch her two youngest while she and her husband took the two oldest to the Forgot Carols. I truly didn't mind because she is such a great friend and is always great. I got to watch Hairspray (which I am not sure if I think John Travolta was disturbing or funny) while the kids slept. I thought I would be home by 10:00-ish, but they didn't get home until 11:00.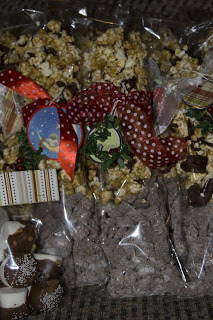 Tuesday I decided that that I was in the Christmas spirit and decided to make neighbor treats. I had nothing planned (like I normally do) so I checked out the pantry to see what I could come up with. I was inventive and totally made up my popcorn recipe and made Chocolate Covered Toffee Popcorn. It was delicious! I also had the stuff to make Muddy Buddies (a little ghetto, but who doesn't love to snack on them!) I also made some chocolate dipped marshmellows with toffee sprinkles. Of course it's all about the packaging, so I pulled out my ribbon and tag stash and went to work. I made 16 long cellophane bags and 6 smaller treat bags. So fun…but took most of my day again. Then that night we went around and delivered most of them. It's always so fun to share some Christmas cheer…in the form of sugar!
Wednesday, again I was in the kitchen. I spent most of the day baking surprise cupcakes for Ian to take to work for his birthday the next day. I wanted to do something small, but fun for one of his many surprises that day. I even baked his favorite applesauce cake. This "spice" cake is really pungent…enough that Ian can smell it from the car when he gets home. I didn't want to ruin the surprise so I purposely slightly burnt some bacon for the cause. It worked like a charm. Unfortunately, I still think I stink two days later! I am a super messy baker so then I had all that to clean up. That night we delivered the rest of the treats.
Yesterday was the busiest of them all. That morning I took Ian to work and gave him the cupcakes to share. He was happily surprised. When I came back home it was time to get ready for the day ahead. I had to be back to Ian's work around 11:30 to pick up a check of mine that we had Fedexed to there from a scrapbooking magazine. (That is a whole irritating blog entry by itself that I will explain later.) Of course I took Ian out for a light lunch to celebrate his birthday so off to Chick-fil-a we went. Once I dropped him off I quickly headed to Kid To Kid to drop off some of Liam's old clothes to sell. I wanted to shop right then and there for some things, but there were backlogged so it will take them a few days to purchase. I had a few minutes before I had to be to Liam's dr. appointment that I dropped off Holly's holiday treat because she lives just down the street from the doctor. I haven't seen her in forever so it was a fast, but good visit. Once we got to the doctor's office, I got to actually sit for a few minutes for a little break. About a month ago Liam got a rash on his face and it's just gotten worse the last couple of weeks. Weird bumps on his arms, and back. We found out that our little guy has exema so the doctor told us how to treat it and said that it was a pretty mild case. Well, you know how you make an appointment for the doctor when things are bad, and the day your appointment is, it's suddenly all better? That was the case that day. I love our doctor. He doesn't make me feel like I am an idiot mother…which I feel like most of the time!
Soooooooooooo, after that I had two huge bags that I wanted to donate to our local Deseret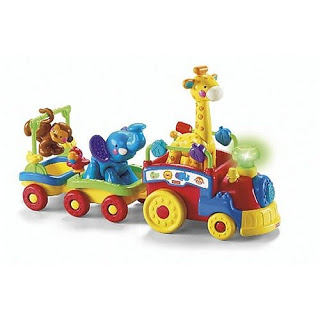 Industries so I was off again at full pace. I had an 1 1/2 hours before I had to pick up Ian and I was atleast 30 minutes away. I rushed to Target to get some stocking stuffer shopping done. I was crossing my fingers that they would have Liams Christmas toy there so I wouldn't have to make another stop at Toys R Us…and I got lucky! They had one left so I snagged it. Ever since I saw it in a magazine, I knew that was the toy I wanted for his first Christmas. We wanted to do just one toy this year for him. He isn't even 12 months yet and I know he will have more fun with the wrapping paper that the toy, so why spend tons of money? I have to tell you thought, when I put that in the cart, this sense of joy came over me. I was finally the parent! I get to buy my child things now. It was such a wonderful feeling. I scrambled through the store buying the things on my list and trying to watch the clock. Good thing Old Navy was next door because I had just 15 minutes left to go and find Ian a pair of jeans for his birthday present…talk about way last minute shopping! And of course to add to my inner stress, it started to snow! All through me hussling and bussling…Liam was the perfect angel and didn't fuss one bit! I am so blessed to have him. Not only as my son, but one of the most patient shopping buddy's!
I took Ian to his favorite restaurant, Carrabba's, for his birthday dinner. We both enjoyed a wonderful meal of crab stuffed shrimp and tilapia. And of course…FROZEN MANGO LEMONADES! Oh my, so good! Another one of my surprises came out when I sneakily put some of the applesauce cake in the diaper bag to have for dessert. The waiter thought I was cracked when I asked him for a plate and one scoop of ice cream. I loved seeing Ian's face when I pulled a slice out and wished him a very happy birthday! He was totally surprised by it and laughed his head off when I told him about the bacon. We had a quick stop at Toys R Us anyways, and picked up a toy for Liam's stocking and Ian couldn't resist feeling like a kid and bought himself a Star Wars lego set. Sorry sweetheart, I outed you! He claimed that Liam could play with it one day so why not buy it now and enjoy it. (**When I woke up this morning, it had already been put together!) I had one last surprise for him so we dropped off Liam so my mom could watch him and I took Ian to a movie. We both hadn't been in months to it was so good to just get out, the two of us. We both were so exhausted when we got home and couldn't stand ourselves by the end of the night. He said that he enjoyed his birthday. I sure hope so!
Needless to day, we have come full circle and our place is a mess again!
I think my head just got worse with all this typing!
***I had to come back to this post and preface, that even though it sounds like I am whining…I really have enjoyed myself over the past week. Nothing that a little Excedrin doesn't fix!