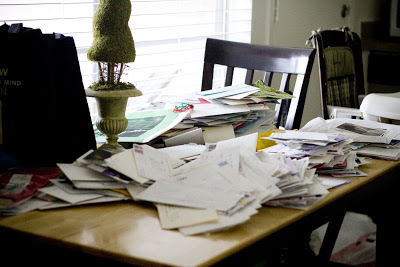 In a good way…junk, things, unused items! Since the storm, I have really come to realize that our stuff is just that. Stuff. There are certain items that hold sentiment and value. Things that serve a purpose or have a function. Then there is the other group. I knew that I had been holding on to some stuff, but I didn't realize for how long. When I was unpacking I went through some things, but I was at a point where I needed to see the bigger picture and then get down to the nitty gritty. I came across this…a box of old letters from my mission. I have been meaning to go through this box for 8 years now and just never got around to it. It was so cool to me when reading some of the letters how much I remembered and had forgotten. I organized them into certain groups that meant something to me and got rid of the rest. This messy table is a symbol of love over the span of 11 months. It makes me happy to look at this mess. One thing I haven't forgotten is how loved I felt while I was away from my family. I didn't serve for the whole 18 months because I came home sick (later to discover that I had/have Crohn's Disease.) but I still got a lot of stinkin' letters (and a whole load of cassette tapes from my wonderful friend Lynz!!!) HIJACK***Lynz, I really need to you to email me (amygirly@gmail.com). I don't think I have your phone number anymore (or your email for that matter) and I am totally out of minutes.) What a great friend I am!
Anyways, there were a group of letters from a stupid boy, Lance F., that I also kept this whole time. Too long of a story to go into it, but it cracks me up that I even wrote him back. If anyone knows this Lance character I am talking about, I would be interested enough to know if he did marry Amber and hope they are having a happy life together! I mean that…sarcastically!
This project made me very nostalgic and really miss the people I met and served with.
So here is my shout out…If anyone who reads this blog (all 9 of you) knows anyone who served in the Cananda Vancouver Mission in 1998-1999 send them my way. And I am looking for a Megan Hyde (well the whole Hyde family) and Griff Price, both from Prince George, BC. I know, I am crazy, but I can't help myself!