I was tagged by the adorable Stephanie so I thought why not?
This one is an easy one…
1. Collect the book that you have most handy.
2. Turn to page 161.
3. Find the 5th complete sentence.
4. Cite the sentence on your blog.
5. Pass it on to 5 other bloggers.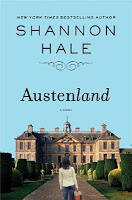 The book I had most handy, even though it's not the one I am currently reading, is Austenland. This sentence makes it sound like a steamy romancy novel, but it's not. It's just a great 'romantical' story.
"She needed to get away, she was dizzy, she was hot, his eyes were arresting, he was too much to take in."
I now tag Rachel (even though I know you already did it on FB), Jennifer, Deneigh, Britt (because I know she reads like 5 books at a time and is one of the best mom's ever!), and Emily (we seem to have the same taste in books).