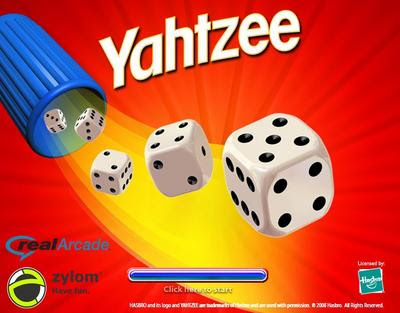 Ian made it back from Hollywood safely and had a blast! This time around he actually took pictures of Hollywood Blvd and other fun buildings they were around…including the inside of the Kodak Theater. It was cool to see how small it is and yet on the Oscars it seemed huge! Here is a link of just some of the fun pictures he took. My first favorite is the one in the middle of Hollywood BLVD and my second fav is one that he hasn't posted yet, but it's awesome!
And I am hoping that he made it off safely to Texas this morning. He is still in the air so I am hoping to hear from him soon. It's going to be so weird to not be with him for a month, but we both know that this small sacrifice will bring great rewards for our family.
When Ian was gone over the weekend, my mom and I played a couple of games of Yahtzee. It's my new obsession and their are no calories involved! The very first game we played I got 4 Yahtzees!!! Both my mom and I were shocked. I remember playing this with my Grandma Cora when I was younger and loving it then. It has quickly become my favorite game again. So if you have yahtzee at your house, dust off the box and break out the dice! It's a blast!