My mother-in-law came over today because she needed my help for my father-in-laws Christmas present. Liam woke up from his nap and she asked if she could get him up…you know how those grandmas are! When she opened the door she says, "Uh, Amy…you might want to come see this." I had no clue what I was going to walk into and was crossing my fingers it didn't involve exposed poop. Liam was clinging to the top front of his crib rail, just laying there. He had climbed up and wasn't exactly sure how to get down the other side. I cracked up!!! In the same second I was so proud that he had done it all by himself and so panicked that my days of him staying in his crib were over. All of you moms know how precious good crib time can be! ***Don't judge me!*** From the look on his face you could tell he was so happy with what he did. Tomorrow, I just know he will get up from his nap and be knocking on his door from the inside of his room saying, "MOM".
I will be that blog mom and give you a fun update on what my almost 2 year old is up to these days!
Loves to try to get dressed himself.
Loves anything Toy Story.
Knows how to put a DVD in and turn on the TV…by himself! (Now, you can judge me all you want on that…I know it's awful!)
Closes all the doors and loves to make sure the lid is down on all the toilets.
Has to have his blanket wherever he goes.
Is not into eating anything, but loves his milk! (I am hoping the not eating thing is just a phase!)
Can say Mom, Mommy, Daddy, Bye, See Ya, Please, Thank You, You're Welcome, Cookie, Milk, More, Drink, Chip, Jesus, Bless, Amen, Home, Ho Ho Ho, Monkey, Horse, Sheep, Love you, Up, Down, Help, Amy, Landon, Pompa (Grandpa), MaGam (Grandma), Apple, Banana, Jump, Phone, Cool, Toy, Clean Up, Prophet, Missionaries (kinda of), Sleep, Mickey, Buzz, Candy, Be Back, Hey, Come On, Eyes, Teeth, Waffle
Is climbing on everything.
Loves to sit beside me when I am doing my coupons and pretend he is doing it also.
Would much rather draw with a pen than crayons.
Loves to climb up on our bed (especially when it's freshly made, of course) to jump and hang out.
And since posts are more fun with pictures, here is a Christmas picture from our reject pile. It wasn't worthy of printing but, it's definitely going in our year in review DVD…that I will hopefully have done in January!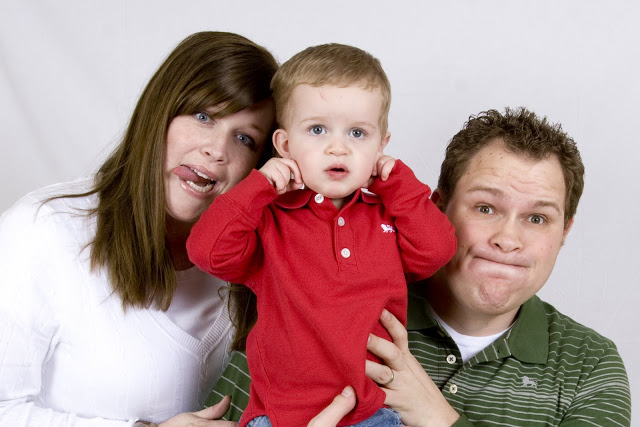 *We have been getting some very fabulous Christmas cards this year. Thank you to everyone who thought of us this season!