BAnanas in pAjamas are coming down the stairs…
Do you remember that show? I have no clue why I have had that song in my head for days now, but I didn't want to be the only one so now you are cursed with it, too!
Here is my second installment of Muffin Madness Month…well half month.
I first got this recipe from my mom and then found out that my aunt Suzie had it so I am not sure where it actually came from. Hands down…the best banana bread/muffins I have ever had. Now if you have had better, then you must share the recipe, but these are quite the contender. *Why I am talking like I know anything about boxing?* I hope that comes from boxing.* Anyways, pull out those very ripe bananas from your freezer (that's were I keep mine) and start mashing!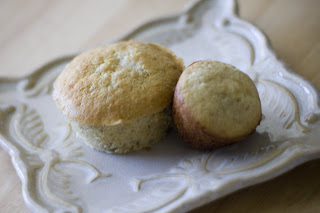 Sour Cream Banana Muffins
1/2 cup margarine (I used butter)
1 cup sugar
2 eggs
1 tsp vanilla
1 1/2 cups flour
1 tsp baking soda
1/2 tsp salt
1/2 cup sour cream
1 cup mashed bananas (about two medium bananas)
1/2 cup nuts optional
Sift flour, soda, and salt together in a bowl and set aside. In a large bowl cream together margarine and sugar. Stir in vanilla and beat in eggs. Add flour mixture and sour cream alternately. Mix well. Stir in bananas and nuts. Fill muffin tin 2/3 full and bake at 350 for 18-20 minutes. * I made some mini muffins and baked them for about 10 minutes.
I doubled this recipe and made regular and mini muffins. I am going to freeze all the mini ones for Liam (then I can just pop a few in the microwave for him) and then freeze some of the regular ones so we can enjoy them at a later date.
On a side note…Thank you for all your generous, encourage words that you left me here and through email! I am glad that I am not the only one out there that feels that way sometimes. Not that I am glad you feel that way, but you know what I mean!