that I finally had to take the countdown to Breaking Dawn off my blog. It's the same feeling the day after Christmas. You are still enjoying the wonderfulness of the event, but have a hint of sadness that it is over…HOWEVER…I finally finished this little 700+page gem and LOVED (most of) IT!!! Well, just mostly the beginning, part of the middle and a tad of the end. Because I know that all of you totally would love to know this next fact, but it is my third favorite book out of the four…only following Twilight, Eclipse and then New Moon lastly. I must not say anymore about it so as to not spoil it for those of you who are not finished yet.
I did have a blast the night of the release, though. I went with a new friend from my church who is absolutely adorable in every way. Lori is a new friend who was not afraid to be crazy nut with me over a book. We met Friday morning at 8am to stand in line at Barnes and Noble to get a wrist band. She had already reserved her book and lucky enough I got on the list that 800 others were already on as well. We met back up at the store around 9:00pm when the party started. We were 2 of 10 there that were over the age 18. Millions of 12-16 year old girls with major drama hanging in the air like a thick glittery cloud! We expected it, though and just enjoyed the moment. We worked our aged wisdom to our advantage and found out when and where to be when the line stared. #10 and 11 in line was not to shabby. Of course the anticipation built when midnight started to creep up. Let's just say, I was so excited to read it that I was home by 12:06am, in my pj's and reading the book by 12:08am. I stayed up till 2:30am and just couldn't stand myself anymore. The next morning I woke up around 8:30 where Ian just shut the bedroom door to keep Liam out, knowing that all I wanted to do was read. And that wasn't all. To brag about Ian a bit…around 9:30, Ian took Liam and went to his sister's house for the day so I could have some quiet reading time. Not only that, but…Liam had a little friend's birthday party to go to that day. Ian took Liam shopping for the present and then took him to the party. He was 2 hours late (we both thought it started at 3:00) but the some guest were still there so Liam got to enjoy some of it. You would have thought I would have finished it then, but life just had to be lived so I just finished the last of it this evening. I know Stephanie Meyer can't please everyone so if she says she satisfied with it, then I guess that I am too. I didn't go into with any expectations so I wasn't too disappointed with some of the story line. Let's just say this…I was completely shocked by most of it!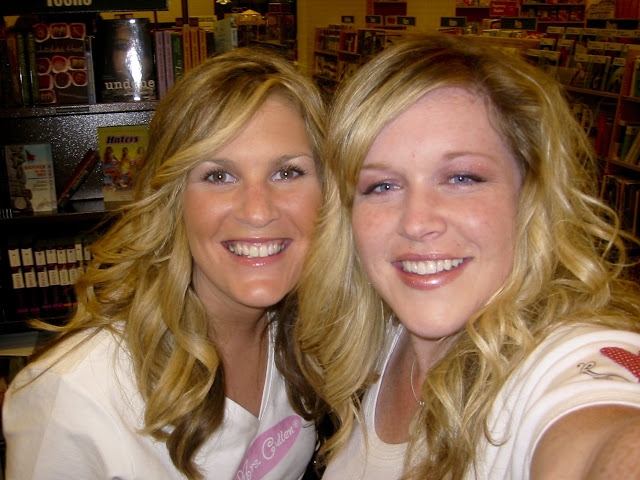 Let's get this party started!!! Notice my Texas size hair…Lovin' it!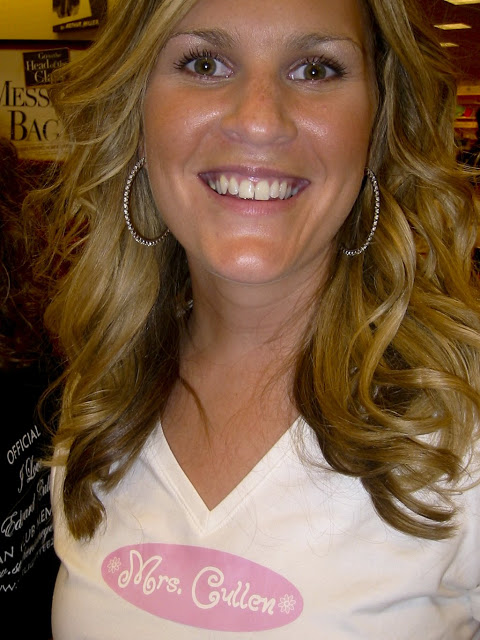 We made Lori's totally appropriate shirt the night before!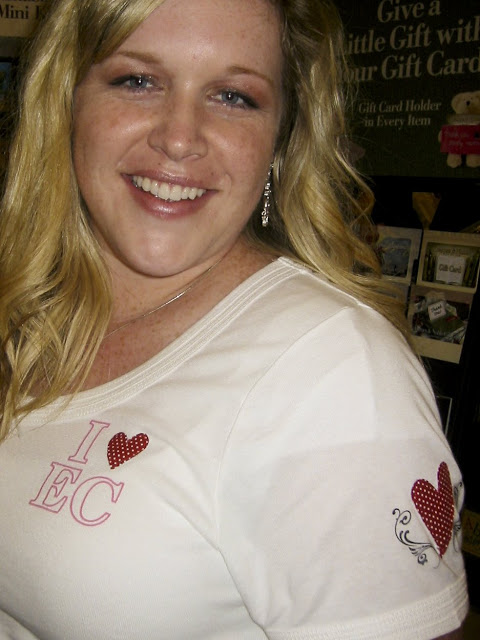 I totally could not come up with the right iron-on that I wanted to do for myself. So I kinda did a bunch of stuff. Thanks to Heidi Swapp and her wonderful iron on letters, it ended up being the perfect shirt for me! What an awful picture of me, but it's the only one I got of my shirt…come on…it was 11:55pm!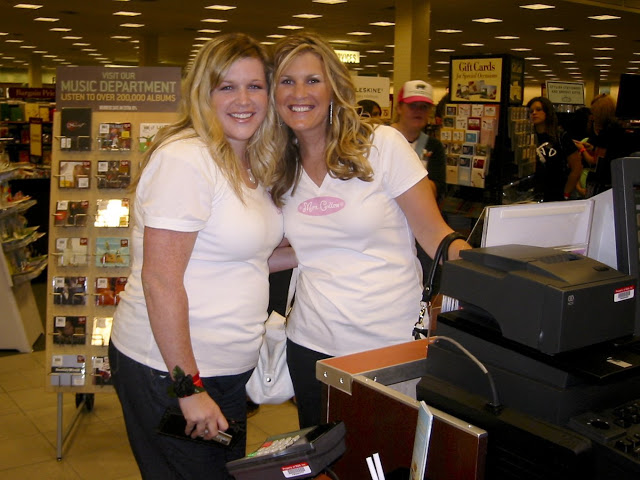 Waiting (somewhat impatiently) at the cash registers. 12:00am sure took it's time getting there! No wonder Texas woman use so much hairspray…my hair was totally deflated by the end of the night. And of course, Lori still looked fab!
**And for those (unfortunate souls) who are Jacob fan's…don't get me wrong…I like Jacob. But he's no Edward! Anyways…I will post you all a Jacob bookmark sometime soon!