Okay, I am lame, but I am doing it anyways. Here is a picture of my unfinished "project" in attempts to wish you all the best Independence Day!!! Please don't take this as me being un-patriotic or something. I love my country and feel so blessed that I have the privilege of living here. I just didn't crack the whip enough on myself to get this done by tomorrow.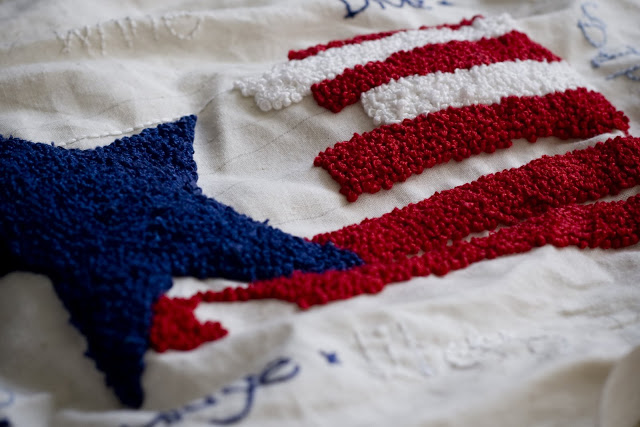 I have way to many marshmallows roasting on the fire if you know what I mean. Ever since my late teens, I have always had many projects going on at once. Generally, I have most always (what a contradiction) finished them. I really do have a projects list and am trying to do to many at once. All of them are so close to being done, but then I always come up with something else. Some of those are business oriented and I am letting those slip as well. I have decided to make a new list…duh…and prioritize which all my lists lack. Enough about my weaknesses…
We got invited to a 4th of July party by some of our friends in our new ward. We are bringing a side and of course I can't go anywhere without brining a dessert as well. So I am going to overload you with some recipes. The first are my favorite side/appetizer. I first had these in 1997. I only remember because it was my cousin Taylor's missionary farewell. My aunt Ellen had made a million of them. I have been making them ever since and they are alway a hit. If you are still scrambling for an idea for your own 4th of July party, you will not be disappointed with these little gems. PROMISE!
**Another recipe in the family cook book for all my family members who have it! Thanks Ellen!
Ranch Sausage Stars
1 lb. cooked and crumbled sausage
1 1/2 cups grated cheddar cheese
1 1/2 cups monterey jack cheese
1 cup ranch dressing
1 cup sliced black olives
1/2 cup chopped red bell pepper
1 pkg. wonton wrappers
cooking spray
Preheat oven to 350. Brown sausage and blot dry with paper towel. In a bowl, combine with cheese, olives, ranch, and peppers. Mix well. Lightly grease a muffing tin. Press one wrapper into each cup so it form into a cup. Then spray them lightly. *This will help in the browning process. Bake 5 minutes until light golden brown. Remove from tins and place on cookie sheet. Repeat making about 4 dozen cups. Fill with mixture and cook for another 5 minutes or until mixture is bubbly.
**You can make this ahead and just save the last step until you are ready to serve.
I am also making this recipe which Ian requested. The last time I made it totally botched it somehow so I am crossing my fingers this time.
**Side note. I forgot to tell you that I took Liam to his first movie at the theater…well first movie since he was first born. That's when he would actually sleep in his baby carrier. My friend had a whole gaggle of people going, including her adorable girls who just love Liam. We saw Kung Foo Panda and Liam sat through 3/4 of it. So cute!