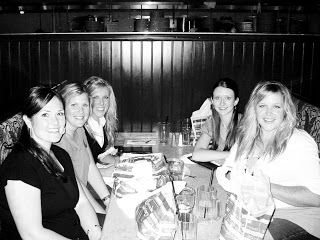 (The title was just for you, Danielle! It's not my favorite song either, but totally appropriate.)
One thing I have been truly blessed with is friends. I have always had friends in my life that have just been fabulous. Being an only child can be lonely sometimes, but friends can fill that void pretty well. Of course, moving always throws a wrench in works when it comes to having friends near by. Lucky enough we kept in touch with the Meyers clan so we could count on having a few friends when we moved back to here.
Whenever we go to a different church ward, I am always scanning the congregation picking out my new friends-to-be. However it's not like kindergarten anymore where you can just walk up to some adorable stranger and ask,"Do you want to be my friend?" It takes just the right opportunity for those friendship to start and grow. All of these new friends are wonderful! I have been busy just hanging out with them. I think my favorite part about it is that they are all completely different. Single. First time moms like me. Slightly older than me and I can't get enough of their wisdom. Some craft and others avoid it like the plague. But they are all so special to me. To those already established friends who read my blog…no worries…no one can ever replace you. But I can't be friendless in Texas. What kind of fun would that be?! I hope no one reading this thinks that I think I am all that. Totally not the case…I am just so grateful for fabulous friendship.
So now that I took forever with that, I was invited to a girls night out last Thursday and I am grateful that I went. I almost wasn't able to because Ian forgot to tell me that he had a church leadership meeting that he had to be at and I was counting on him to watch Liam. (A HUGE thanks to Colette and Jenna for helping us make it happen. I owe you big time!) We went to Cheesecake Factory. You all know I LUUUUVE that place. The official uniform for a GNO is jeans and heels! Everyone wore them. We totally talked about Twilight, High School Musical, favorite books we've read other than Twilight, Edward, pregnancy, adoption, and Twilight. Can it get any better than that, folks? I think not! We just laughed and ate the night away. Then some of us stood in the parking lot for another 1 1/2 talking some more. I was so beat the next day. Thanks to Loralee for inviting me and thanks to Lori for "taking me out"! To all my new friends…you are FABULOUS!!!