The countdown begins…only 5 more days until we move. I am packing up the truck on Thursday and then I have to pick Ian up at the airport Friday night. This weekend finally is here…it went by slow and fast. I am totally in crunch mode and trying to get everything done by tomorrow. Packing and cleaning everything little thing. I feel so frantic, excited, sad, tired, thoughtful…did I mention frantic?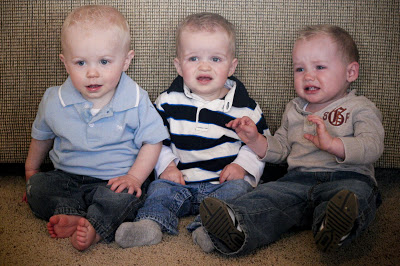 Friday I got to go to one last play group in our neighborhood. Jamie, Karin and I all have boys within 2 months of each other so we wanted to capture a little friend picture before we moved. We really should have taken it at the beginning when everyone was happy and playful. Instead we got this (still really cute) pictures of confusion! They didn't know what to do with each other.
Saturday night I had the opportunity to got to the LDS Young Women's General Broadcast with the girls in our ward. I was really debating on whether or not to go becaus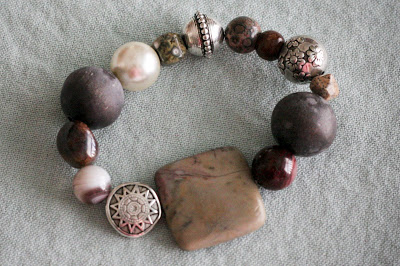 e I just felt like I would just be busier when I got home…that whole packing and cleaning thing.
I went anyways and don't regret it one bit! It was so uplifting. Afterwards we spent almost 1 1/2 hours at Wendy's…not because we had slow eaters. The service was unbelievably SLOW! It was good to spend time with everyone though. On behalf of the girls, Jamie got me this gorgeous beaded bracelet that I LOVE! I am so sad that I won't be in the Young Women's anymore, but these girls are great and are going to do so well in life. I especially loved serving with the leaders. So awesome!
Sunday…it snowed…5 inches…that's all I have to say about that.
It was my last time to go to this ward and I am going to miss it so much. It was definitely a place that I felt like I belonged and could feel the spirit. Ian has already been to our new church and says he got the same feeling there so that makes me feel better. I told Ian that I am going to save my money and fly out for the yearly Scrapbook Retreat in January. It's just too fun not to come!
This morning…it snowed some more…with major ice on the roads.
I forgot to mention that I went to a wedding last Saturday. It's our good friends, the Meyers, their son. We love the whole family and knew the two youngest boys since they were 13 and 15 so it's so crazy that they are approaching that marriage age. Here are some cute pictures on his sister's blog.
And finally here are the pictures from my Brick Oven lunch with Janine and Kennedy. I forgot to bring my camera so she emailed me these. They shared some exciting news yesterday that they are coming to visit Hal's parents in April. The best part about it is that his parents live 30 minutes from where we are going to live. We've had so much fun with them and it's great that our kids are so close in age.