I have been on this re purposing kick lately. Okay, like three things, but I have a ton more things that I want to give a make over to.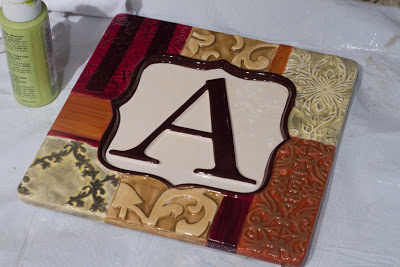 I got this for my birthday from my mother in law this year. I love that it added to my "A" collection, but to be honest, I wasn't feeling the autumn colors on it. Is that bad of me to do to a gift?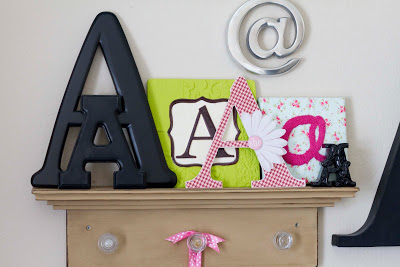 Well, I like it better now so I guess that counts for something. I painted it a sour apple green. I didn't do it correctly so I had to add a million coats to it because it had a glazed finish on it. I still need to add a coat of varnish to it to match the shiny inside, but for now, it's up.
I think when we were first married, I had gotten this sweet little white molding shelf that we never put up anywhere, because it was too small and didn't really go with anything else in the house. Sorry, no before picture…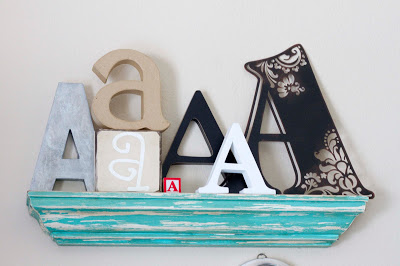 I decided to add some aqua paint to it, sand it down and then a walnut stain over the top (which you can't really see in the picture). It's one of those projects that I didn't really like the outcome at first, but the more I look at it, the more I like it. Plus it doesn't really have to "go" with anything because my collection is very hodge podge.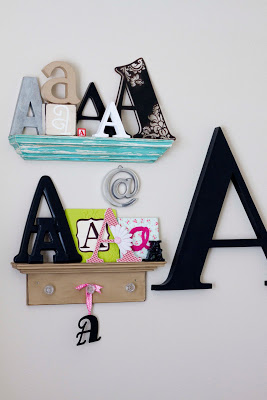 This is on my side of the bed in our room. It's really fun to add to and see it grow!
I see this little bear every day when Liam (I) makes his bed. It's one of my favorites because of the small effort I made to make it over. Remember this post?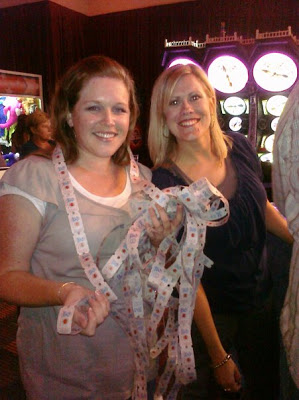 4, 598 tickets bought three of these bears and other junky treats for Liam and his two cousins. Well, the bear's belly was stitched with an ugly Dave & Buster's logo and I was not about to promote them to my 2 year son. I carefully checked him out and decided that I could just patch over it, which I did. I sewed a felt "L" onto some of Ian's leftover quilt material and then hand stitched that onto the belly. Liam's cousins got a pink and a red one and their mom did something similar. Santa put them in their stockings last year for Christmas to keep the magic alive.