Well, we got to hang out with some of our family yesterday. Ian's cousin Hal, his wife Janine and their adorable little Kennedy are so so fun to be with. I feel really bad because Liam was super cranky because he is teething again, but it was great regardless. They are the kinda people that the time just passes so quickly with even though we are literally just sitting around and talking. They took us out to Pei Wei (which we all love) and got some facial waxing done! Janine always does a great job…I don't know what I am going to do in Texas! Of course there were tears because we are going to miss them so much. We used to hang out all the time before we had our babies, but it's so nice to be together now because our babies are so close in age.
Before we headed over to their house, I checked off yet another thing from my to do list and we went to the Wood Connection. Ian picked up a stool that he has been wanting forever for his photography. I also got a fun frame and some vinyl "A's" that I am collecting. **I saw a long time ago that Ali Edwards had a collection of "A's" in her scrapbook room and thought it was adorable!!! If their shipping costs weren't so outrageous, I would buy one of everything and send it to us in Texas.
After we visited with Hal and Janine, we headed over to Ian's aunt and uncle's house so he could say good-bye to them. Over the last little while we have grown really close to them. They are such wonderful examples to Ian and I. They have the type of home that you can actually feel the love in the air. I made plans to go up there again once Ian is gone, but he was super sad that he had to leave them. Good thing for email and free weekend minutes on our cell plan!
And, no, this next item was not on my things to do before we move…but I saw them today while we were picking up some things at the store. WARNING!!!! DO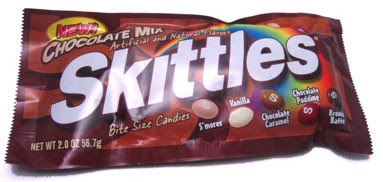 NOT DO THIS AT HOME!!! The worst $.50 I have spent! Chocolate Skittles goes against every law of man!