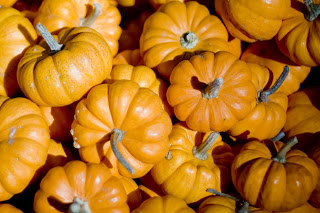 This one I didn't have a chance to make before I left for my trip, but I know you can imagine what they look like. You can omit the raisins and add in chocolate chips if you want. Just also omit sprinkling brown sugar on top if you do.
I got this recipe from a sweet lady on my mission in British Columbia, Canada. She only lived a few houses down from us in Chiliwack. She always had us over for lunches and dinners and fed us well! She would actually grow her own pumpkins to make homemade puree. Who knew pumpkin didn't come from a can???
Pumpkin Muffins
4 eggs
2 cups sugar
1 1/2 cups oil
1 3/4 cup pumpkin puree
3 cups flour
1 TBSP cinnamon
1 tsp nutmeg
2 tsp baking soda
1 tsp salt
2 cups raisins
Beat eggs slightly. Add sugar, pumpkin and oil and beat thoroughly. Add dry ingredients and mix until smooth. Stir in raisins. Fill muffin tin 2/3 full and sprinkle tops with brown sugar. Bake 375 for 15-20 minutes, until center comes out clean.