…which Owen provided me with the other day!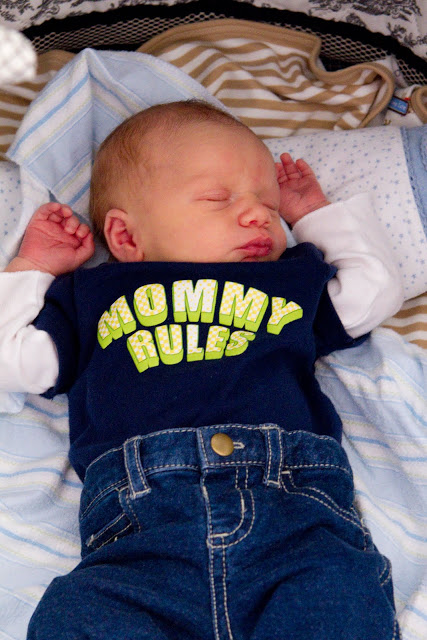 I truly did not understand how difficult challenging being a mother of two would be. "They" say that after you have two you might as well have twelve because going from a single child to any more after that is hard no matter what the number.
I have had some fantastic helpers and company (my parents) for the last two weeks. I realized the hard way Tuesday night that I haven't spent any time with my Liam since I've been home from the hospital. I put Ian to bed early because he came home sick from work and Owen was a little fussy. So, it was up to me to put Liam to bed which was not a fun experience for either one of us. It was then, that I realized that he and I both needed some fun time together.
We went on a son and mommy date last night. I took him to McDonald's for a Happy Meal and then to The Children's Place. This kid is totally into clothes right now and insists on dressing himself all the time. I was looking for a new shirt for him and Owen (we are getting pictures next weekend hopefully), but all we found was some fun blue slippers that were on sale. He was a happy camper and so was I to have my Liam back again.
I know that all will be well again…it just takes some time and lots of naps on my part so I can be a happy mom! I am completely grateful that I have two handsome, wonderful sons and I would trade all the sleep for the rest of my life for them.