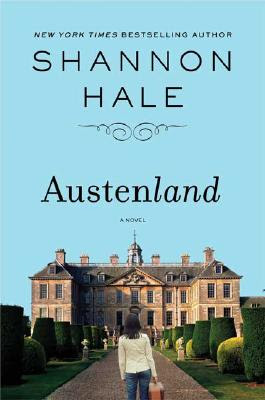 So, this reading bug has really hit me. I remember being in my pre-teens and loving to read. Somehow I just stopped. I don't remember why, but I had convinced myself that I really wasn't a reader. What does that mean, anyways? Everyone is a reader…whether it a billboard on the side of the road, a cereal box or blogs…every reads something every day.
We have a library that is only 3 minutes from us so yesterday I headed over to check it out. Now I am new owner of a library card. I came prepared with a list of books that I had gotten off my friend's Good Reads recommendations. Austenland was the first on that list. I had first heard of it on Sande Krieger's blog and it sounded intriguing. So, when I saw that some of my other friends had read it and I was obviously "late to cool party" (as usual) it just had to be first.
Luckily the library had it. Since I was a brand new member I was only allowed to check out three things. I wonder why that is, but from here on out, the library world is mine. Bittersweet by Cathy Marie Hake and a Winnie the Pooh DVD for Liam were my other choices.
Okay, back to Austenland. I started it last night and finished it up this morning. It was only 100+ pages so a pretty fast read. It was wonderful and totally took me by surprise at the end. I am one to always try to figure things out while I am in the story, but this one I had completely wrong. I would really like to own it so I could read it anytime I want. Totally recommend it to everyone!
Tonight we are headed over to a cool park to relax and try out some new photography techniques. Hopefully I can have some new pictures to post soon!